---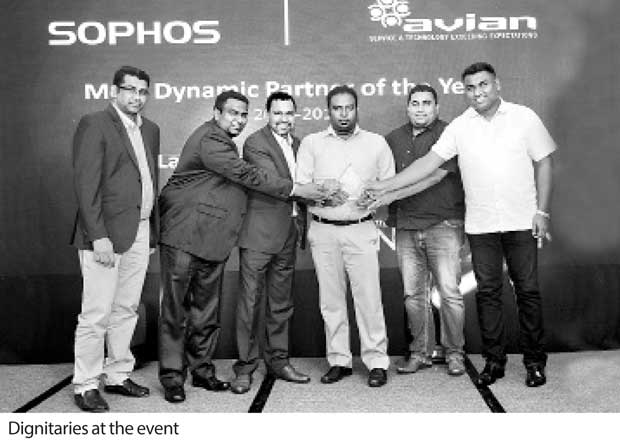 Avian technologies, a leading provider of total unified threat management and secure content management solutions and a sole distributor of Sophos' comprehensive and innovative IT security product suite, recently hosted Sophos' partners from Sri Lanka and the Maldives at a gala event.

The event was attended by Sophos India and SAARC Sales Managing Director Sunil Sharma, who showcased the company's ability in delivering innovative, simple and highly effective cyber security solutions powered by the cloud, for businesses of all sizes. He further emphasised the capabilities which can be achieved as a team to protect businesses in the region from IT threats.

A technical and live video demonstration was conducted by Sophos India and Sri Lanka Pre-Sales Manager Santhosh Varkey. The presentation focused on the use of the XG Firewall and its benefits to its users.

The best performing partners for 2016/17 were felicitated by Avian Technologies; The Best Technical Support 2016/17 – A-Networks (Pvt.) Ltd. The Most Eminent Partner of the Year – Netsy Solutions (Pvt.) Ltd. The Most Promising Partner of the Year – Pi Networks (Pvt.) Ltd – Maldives. Best Sales 2016/17 – Bronze – Softlogic Information Technologies (Pvt.) Ltd, Silver – Open System Integrators (Pvt.) Ltd, Gold – Sri Lanka Telecom (Services) Ltd. The Most Dynamic Partner of the Year 2016/17 - Sri Lanka Telecom (Services) Ltd.

Speaking at the event, Avian Technologies Channels Sales Manager Ryan Kern stated: "We strongly believe in healthy partnerships with our principles as well as dealers and partners, because this relationship is what has helped Avian grow to what we are for over a decade. Our alliance with Sophos goes back to almost 10 years, and we take pride in being able to host this event with all stakeholders. Our strengths lie in our efficient distribution channels as well as pre and post sales services, which has made Avian Technologies stand out from all other competitors in the market."

Sophos Sri Lanka and Maldives Regional Head Prasad Wijesuriya and Avian Technologies Directors Buddhika Liyanage and Ranil Francisco were also present at this event.