---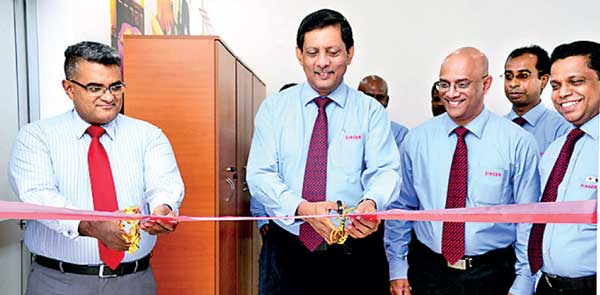 Ceremonial Opening of the Singer Computer Academy in Embilipititya by City & Guilds South Asia General Manager Business Development Shakoor Fahim (left) and Singer (Sri Lanka) PLC Sales Director Kumar Samarasinghe
The Singer Computer Academy, backed by one of Sri Lanka's most successful company's the Singer group understands the need for today's workforce to master ICT skills.

Together with internationally acclaimed City and Guilds of London Institute (City & Guilds) that provides qualifications which play an integral role in the development of work-relevant learning, the academy now offer Skills Proficiency awards in Basic IT for Office Applications through foundation and proficiency certification.

City & Guilds worldwide is the pioneer in inspiring people to unlock their potential and develop their skills. All City & Guilds qualifications are designed to provide participants with competences and knowledge that are sought after by employers worldwide. These qualifications are acknowledged as a global benchmark of excellence.

"The Singer Computer Academy in partnership with City & Guilds Group is ensuring the workforce is prepared to contribute to successful businesses and help build thriving economies," said Singer (Sri Lanka) PLC Group Chief Executive Officer Asoka Pieris.

Partnering the Singer Computer Academy and obtaining the City & Guilds certification will help participants unlock their potential and develop latent skills.

"We are very pleased to partner the Singer Business School - Computer Academy in this endeavor to give Sri Lankan youth an international certification for their practical IT skills requirements. With these practical qualifications youth will be readily employable in their own cities and will not essential to travel far to gain and internationally recognized qualification," said City and Guilds South Asia General Manager Business Development Shakoor Fahim.

The Proficiency Certification will ensure candidates are equipped in understanding and maintaining safe working conditions, creating and edit word processing documents and spreadsheets, creating and use basic databases, creating and edit presentation text and graphics, managing e-mail messages and address books and locating information from the internet and access frequently used sites.

The Skills Proficiency offers the opportunity for formal recognition of practical skills for people already working in occupational areas but with no official qualifications.

An objective of the Singer Computer Academy is to provide an innovative and quality learning experience for people to meet their individual needs and aspirations. The accreditation of the highest quality makes the academy stands tall when compared to other institutions.