---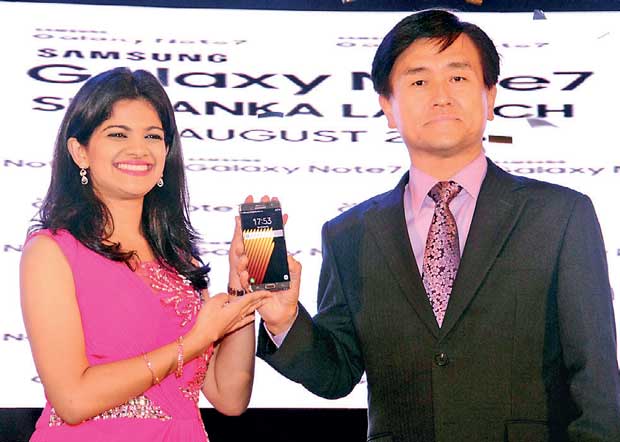 Managing Director of Samsung India Electronics, Sri Lanka Youngmin Shin unveiling the new Galaxy Note 7 to the Sri Lankan users at the launch ceremony held at Waters Edge, Battaramulla.
Pic by Pradeep Pathirana
By Supun Dias
Samsung India Electronics, Sri Lanka unveiled the new Galaxy Note 7 – the intelligent smartphone that thinks big, which has set a new standard for large screen devices by introducing a number of unique features for the customers.
For starters, it has an Iris scanner as well as fingerprint scanner for security. The smartphone is water and dust resistant as is the S Pen on the Note 7. Samsung has introduced a Secure Folder protected by the company's Knox security. There's also Samsung Cloud with up to 15GB free space.
Managing Director of Samsung India Electronics, Sri Lanka Youngmin Shin said that the new Galaxy Note 7 will help users to get things done more easily at any given time, be it at any given situation or you name the condition. "We have come a long way since we introduced the Galaxy Note back in 2011. This phone will be useful for aspiring young people, achievers and pioneers due to its unique features", he added.
In terms of specifications, Samsung Galaxy Note 7 features a 5.7-inch Quad HD (2560 x 1440 pixels) dual edge Super AMOLED display. It runs Android 6.0.1 Marshmallow. Samsung Galaxy Note 7 is powered by an Exynos octa-core processor coupled with 4GB RAM and 64GB internal memory. The US version of the phone, however has, a Snapdragon 820 quad-core processor. The new phone also has a Type-C USB charging port, making it the first in the Galaxy series to ditch the micro-USB port.
Samsung Galaxy Note 7 comes with a new S Pen that can be used on the smartphone without unlocking the screen. The Screen off memo works by simply pinning the memo to the 'Always On Display'. Users can create and share GIF animations more quickly with the new S Pen using the Smart Select feature. The new S Pen has a smaller 0.7 mm tip. According to Samsung there's improved pressure sensitivity that provides a real pen-like experience and is IP68 water resistant. It allows users to jot down notes on their phone even when the screen gets wet.
IRIS Scanner is the newest addition to Samsung smartphones, is to provide better security and privacy. There's also a fingerprint scanner. There is another feature called the Secure Folder to keep private information safe. The folder can be accessed using fingerprint scanner, iris scanner or by a usual password.
Samsung is also selling the Gear VR, powered by Oculus separately. Samsung Gear VR now comes with a USB Type-C port as well as micro USB port for compatibility with other Galaxy devices. The design has slightly changed and the field of view is now wider at 101 degrees.
The Galaxy Note 7 will be available soon in Gold Platinum, Silver Titanium and Black Onyx.