---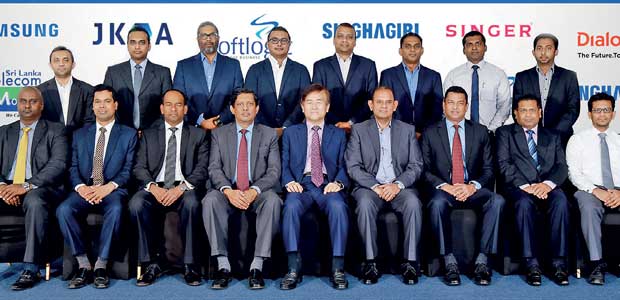 Seated (from left): Malik Edwin (Head of Marketing- John Keels Office Automation Pvt Ltd), Asanga Priyadharshana (Head of Business- Mobile Telecommunications – Dialog PLC), JanodaThoradeniya (CEO –John Keels Office Automation Pvt Ltd), Kumar Samarasinghe (Director- Marketing, Singer PLC), Youngmin Shin (Managing Director-Samsung SL), Ranjan Perera (Group Director – Soft logic PLC ), Mahesh Wijeyawardane ( Director-Sales , Singer PLC), Induka Perera (Business Development Manager, Soft logic PLC) and Yasiru Abeyakunawardana (Senior Manager- Data, Devices and Enterprise Strategy- Mobitel pvt Ltd). Sanding (from left): Yarthav Mathiyaparanam (Director-Commercial-Etisalat (Pvt Ltd), Gihan Sanketh (National Sales Manager, JKOA), Feroz Inthishar (Head of Enterprise Business Division, Samsung SL branch), Nigel Adams ( Head of Mobile Business, Samsung SL branch), Sabry Ansar (Head of Consumer Electronics, Samsung SL branch), Samantha Perera (Head of Home Appliances, Samsung SL branch), Priyantha Jayasinghe (Brand Manager, Singhagiri( Pvt Ltd) and Daminda Edirisinghe (Senior Manager, Business Product Marketing and Digital Solutions-Etisalat Pvt Ltd)
Reiterating its position as the world's number one smartphone, Samsung is confident of maintaining its 60 percent market share in Sri Lanka, said Youngmin Shin, Managing Director of Samsung Sri Lanka.
"Samsung is confident of being firmly positioned as Sri Lanka's no 01 brand as we enter a new year with tremendous possibilities for our customers", he adds.
Having experienced remarkable growth in the market, Samsung plans to consolidate the brand's position in the industry as well as guaranteethe customers of its commitment to Sri Lanka as a growing market, added Shin.
A key aspect of it will be in ensuring an outstanding service delivery via a dedicated service centre – which will be initiated with a dedicated local partner, thus reinforcing the brand's focus on providing customers with an exceptional level of service.
"We are also thankful to our partners in Sri Lanka without whose support we would not have been able to achieve success – Singer, Sinhagiri, Softlogic, John Keells, Dialog, Mobitel and Etisalat have been outstanding in their partnerships with Samsung." "In 2017, we plan to introduce a new line up with enhanced specifications and delivering exceptional quality. The products will also give more exciting features to the consumers such as 4G coverage and tremendous data saving benefits." he adds. Samsung Sri Lanka has plans to offer plenty of customized benefits for the smartphone segment in Sri Lanka. There will be innovative, wearable options and smart accessories that will add value and enhance the capability of their smartphones, giving them access to a host of distinctive features.
In addition, Samsung Sri Lanka promises to offer a unique experience with the Virtual Reality Zone together with Dialog – an innovative experience will enhance customer experience and take the concept to a whole new level,
added Shin,
With plans to open 30 totally branded retail stores across the island, Samsung Sri Lanka plans to strengthen the product offering and service support to customers throughout the country.
" Towards providing a seamless customer support service, we will be strengthening and expanding our service centres in delivering an efficient level of service to our customers. In addition, the launch of new high end flagship devices that promise to beexciting and revolutionary, the A series and C series,will happen very soon.We plan to consolidate our relationships with the distributors and the retail network that will assure our position as Sri Lanka's no 01" he reiterates. In a move that empowered visually impaired undergraduates towards augmenting their studies through tech-based resources, Samsung Sri Lanka recently donated 100 free smart phones to visually impairedundergraduates of Sri Lankan universities. " We are pleased to have been able to share technological resources with the talented undergraduates of Sri Lanka" said Shin, " With the software, apps and the other facilities available on the smartphones, the visually impaired would be able to acquire and better their knowledge with the smartphones."
In keeping with their commitment towards giving more incentives to their customers, Samsung Sri Lanka recently held a unique Win Your Home consumer promotion, which gave away high value, prizes as never before to participating customers. The prizes on offer included an apartment and many valuable electronic goods.
In keeping with a gesture of goodwill, Samsung Sri Lanka also was proactive in extending support for the victims of the floods that occurred last year. " Samsung maintains a strong focus on our customers which we try to fine tune towards meeting their needs,"
added Shin.