---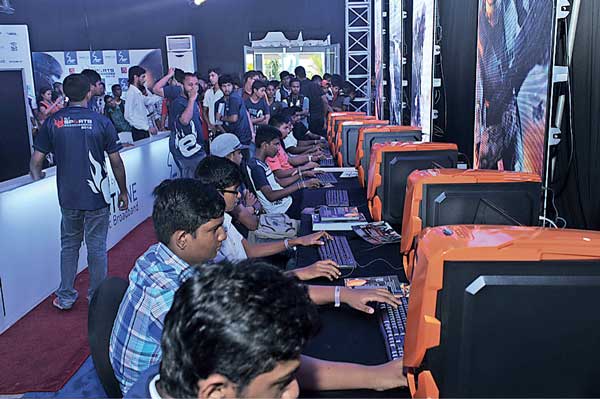 The stage is set for the battle of a lifetime as casual gamers and competitive cyber athletes come together at SLT e-Sports Championship 2016, organised by Sri Lanka Telecom (SLT).

The tournament will feature a number of popular online multiplayer games such as, Dota 2, Counter Strike: Global Offensive, League of Legends, Overwatch as well as single player gaming titles in the likes of FIFA 16, Project Cars, Mortal Kombat XL and Call of Duty Black Ops 3.

The largest event of its kind ever held in Sri Lanka, SLT e-Sports Championship 2016, organised alongside Infotel 2016, will be recognized as a ranked event by the Sri Lanka e-Sports Association (SLeSA), thereby asserting the tournament's reputation in the country.

Staying true to its commitment of taking e-sports and the online gaming experience to the masses, the SLT e-Sports Championship will also be held across four regions. The Jaffna and Kandy regional events were held on October 22 – 23 and 29 – 30, respectively while the Galle regional event is scheduled for November 5 and 6. The main event will be held from November 11 to 13, at Hall E of the BMICH.

e-Sports in Sri Lanka has continued to grow over the years and following the remarkable success of the inaugural SLT e-Sports Championship last year, SLT is proud to expand as well as introduce new elements to the main event this year. In addition to new gaming titles, a mobile gaming challenge, a women's gaming event, a unisex team event as well as an international gaming event featuring foreign gamers will take place at the main event.

Boasting of attractive cash prices, in addition to trophies, medals, SLT-branded promotional gifts, gift vouchers with attractive discounts on new connections for Megaline, Smartline and LTE, the SLT e-Sports Championship has become the largest eSports tournament in the country with ultimate fame and prestige for the champions. With numerous social media competitions launched alongside the event, even spectators and fans can be part of the event this year and stand a chance to win fabulous prizes for supporting and motivating their favourite teams and players.

The SLT e-Sports Championship will be played exclusively on the network infrastructure and Internet connectivity powered by SLT broadband, famous for its low latency, dedicated and reliable broadband connectivity which is compulsory for competitive gaming. A special broadband offer from SLT, showcasing the capabilities and ideal Internet connectivity with low-latency and stability, will also be in effect till December 2016.

SLT e-Sports Championship 2016 will be exclusively powered by RLG Gaming PCs, providing top of the line performance needed for the highest level of competitive gaming. Promotional offers for the full range of RLG Gaming PCs will also be available for all participants throughout the event duration.
SLT e-Sports Championship 2016 is organised by SLT along with Redline Technologies – Sri Lanka's premier enthusiast tech store and Xiphos e-Sports - the oldest gaming clan in the country celebrating its 11th anniversary.

For more information on the event and online team registrations (for Dota 2, Counter Strike: Global Offensive, League of Legends and Overwatch), please visit slt.lk/esports.
Registrations will be open at the venue for the individual gaming titles (FIFA 16, Project Cars, Mortal Kombat XL and Call of Duty Black Ops 3).