---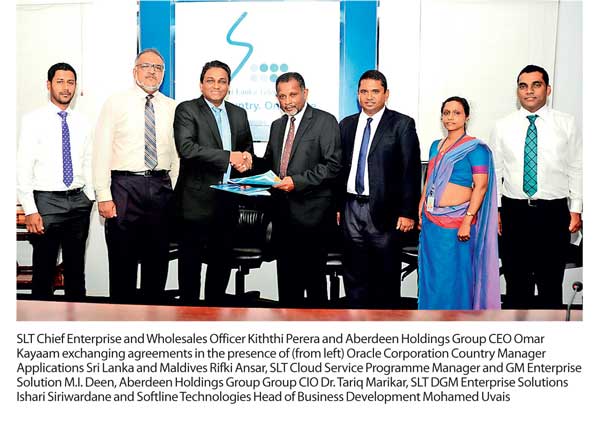 Sri Lanka Telecom (SLT), said its cloud platform, 'Akaza' has powered the Aberdeen Holdings Group of Companies with the cloud-based Oracle ERP solution to streamline its enterprise business processes across the group's business activities.

The SLT Akaza cloud-based Oracle ERP solution facilitates core business functions such as: financials, sales, supplier chain management, human resource management, project portfolio management, business intelligence, safe searching and much more, aiming to increase productivity, bring down operational costs and improve the controls of Aberdeen Holdings.

Aberdeen Holdings Private Limited is a group of companies with diverse business interests in commodity trading, renewable energy, waste management, herbal pharmaceuticals, aviation and the food industry.

Expressing his views on this high-tech implementation, Aberdeen Holdings Group Chief Executive Officer Omar Kayaam stated, "The SLT team has very efficiently managed the migration of our ICT service requirements to the SLT-managed cloud-based platform. This incorporates Oracle, WAN and IPVPN that supports our critical core operations. This gives our organisation the comfort of operating on a safe and secure IT platform, managed by the best communications and IT technology experts in the country.

This arrangement opens out opportunities for our organisation to concentrate on growing our businesses with the confidence that SLT, our communication and information partner will support us to meet the volatility of the MIS needs. We are happy to be the inaugural client of SLT and hope to build a mutually beneficial, long-term business relationship in our progressive path towards greater success." SLT Group Chief Executive Officer Dileepa Wijesundera commenting on the implementation of this cloud-based solution said, "In the present business climate, enterprises like Aberdeen Holdings need to be agile and look into disruptive business models to stay ahead of the competition. Akaza cloud-based projects involve devised technologies with the world's leading technology and application partners like Oracle.
This enables us to blend all these ingredients and develop solid architecture and present them to the customers as a single solution."

SLT Akaza cloud is a fully-fledged cloud platform that enables diverse businesses ranging from top enterprises, small and medium-sized enterprises (SMEs), micro level business organisations and government institutions as well as mobile customers to leverage on SLT's vast ICT resources, which includes being connected to the largest fibre optic backbone infrastructure in the country. Customers adopting a cloud strategy in their IT projects benefit from the scalability and cost efficiencies of delivering IT services to their business requirements.