---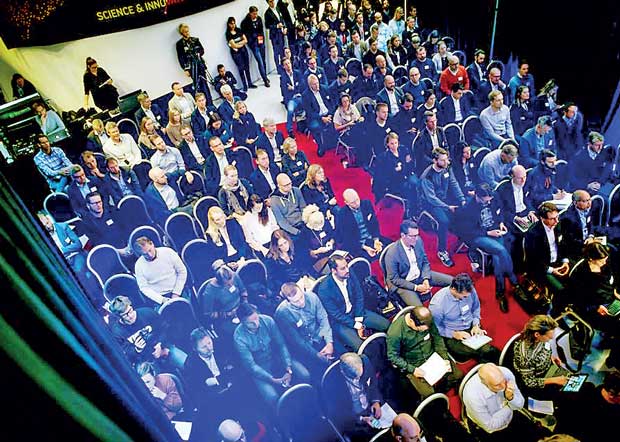 Oslo Innovation Week, Europe's largest innovation convention that included a five-day series of events, was held recently at the Forskningsparken science park in Oslo, Norway. The organisation Oslo Innovation Week is owned by the City of Oslo and Innovation Norway and Oslo Business Region.
As a significant meeting place to discuss opportunities and practices for growth and innovation, this year's event brought together investors, researchers and businesses both big and small. Representing Sri Lanka, the Sri Lanka Association for Software and Services Companies (SLASSCOM) was also a participant at this event that comprised of seminars, talks, pitching contests, hackathons, workshops, breakfast meetings and company crawls.
Identifying international leading trends and development in innovation and entrepreneurship, the events were organised by over 90 different organisers that included corporates, start-ups, accelerators and organisations.
The event kick started with Norway Prime Minister Erna Solberg opening the event, followed by a keynote address by Johan Brand, CEO of Kahoot!, one of the world's fastest growing online learning platforms. The musician Imogen Heap and TechCrunch's Mike Butcher were some of the other leading speakers at the event.
The participants also had the chance to get hands-on with high-tech kits that composed of drones, Tesla cars and VR and AR experiences. Harnessing the interest of the younger generation, girls from the third to fifth grade joined to explore coding, 3D printers and programming.
'Women as Disruptive Innovators' was another interesting forum and debate that took centre stage at the event. World-leading organisations such as the European Space Agency demonstrated cutting-edge innovations such as the Birdly virtual flight experience, the Whiplash chair, electric motorbikes and Blueye underwater drones.
The 'Company Crawl' section saw panellists speaking and communicating via robots, whilst the pitching event saw solutions for a range of challenges that encompassed finance, green energy and social care.
Orion Development Chief Executive Officer/Director and SLASSCOM Vice Chairman Jeevan Gnanam, who was a participant at the event, stated, "It was a great experience visiting Oslo Innovation Week with the help of IKT Norway, the SLASSCOM's partner in Norway. The Norwegians are friendly, kind, egalitarian and most importantly open to doing business with Sri Lankan IT/BPM companies. It is huge mutually beneficial relationship that we must harness."
Oslo Innovation Week this year acted as the bridge connecting industries, accelerating businesses, entrepreneurs, investors and developers across an extensive variety of sectors to learn about the latest innovations and techniques that can help grow their businesses.
The SLASSCOM believes that such collaborations are an important driving force which fosters positive economic developments within the tech industries, hence their participation at this event.