---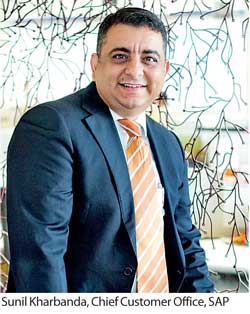 Engagement and experience are the new value adds that consumers are demanding from the brands and businesses that are clamouring to woo them. Customers are now at the head of the table, expecting agile product and service experiences.

By the same token, they are also well-informed, tech-savvy, harder to please and less inclined to be loyal to a single company.

"Building a positive relationship with this type of customer will need a different approach," says Sunil Kharbanda, Chief Customer Officer for SAP India Subcontinent, in a recent chat with Mirror Business.

To remain competitive
Amidst the evolving needs of the customer, Kharbanda believes that local entrepreneurs and small and medium-sized enterprises (SMEs) will remain competitive should they apply the principles of design thinking to the services and products they offer.

He says that this approach is in large part a response to the increasing complexity of modern technology and modern business. The emergence of IoT technologies and the boom in e-commerce, for example, demonstrate how customers value the experience and timeliness of the product or service they receive. As a result, customers now need their interactions with technologies and other complex systems to be simple, intuitive, and pleasurable.

"A set of principles collectively known as design thinking—empathy with end-users and a discipline of prototyping—is the best approach we have for engaging with customers," says Kharbanda. "To build empathy with customers, a design-thinking company must allow their employees to observe behaviour and draw conclusions about what their clients want and need."

He explains that this approach involves looking at a client's needs and finding solutions that cater to those needs. "The process of design thinking forces businesses to use every tool at their disposal to unravel complex issues by first exploring potential solutions."

When a potential solution is discovered, Kharbanda calls on business leaders to scrutinise that solution according to the needs of the company and its customers. "The approach of design thinking, as a rule, is never motionless. Businesses need to keep prototyping the products and services they offer. At SAP, we call this an on-going commitment to innovation," he says.

Kharbanda explains that many local businesses with less advanced design practices typically underestimate the business benefits of this approach. "Allowing design thinking to permeate within an organisation allows for a customer centric outlook to take root," Kharbanda says.

He points out that when a business puts design thinking into practice, the company has more freedom to innovate and improve customer experience. "The design thinking journey at SAP began in 2004. HassoPlattner, one of SAP's original founders was captivated by an article about design thinking that led him to fund the very first design thinking programme at Stanford University. In 2008, Plattner brought in 35 'Design Thinkers' to collaborate with a corporate strategy group to make design thinking a strategic priority to drive across our organisation. Today, all our products—SAP HANA, SAP Leonardo, etc.—represent design thinking in motion. What we are doing is integrating amazing customer experiences into our products and services," Kharbanda says.

Enabling creative solutions
Kharbanda believes that anyone or any business that needs to solve problems could benefit from design-thinking. "It not only enables businesses to solve problems and come up with creative solutions. It can be adopted anywhere so long as there is an end-user. At SAP, we firmly believe that design-thinking can help anyone," Kharbanda says.

In short, by applying design-thinking, local companies will find their key parameters of impact sooner. And it will not stop there. "The approach of design-thinkingis a journey, and a good product or service will get refined continuously. That is how we at SAP have been able to impact our industry and give our customers great experiences," Kharbanda concludes.