---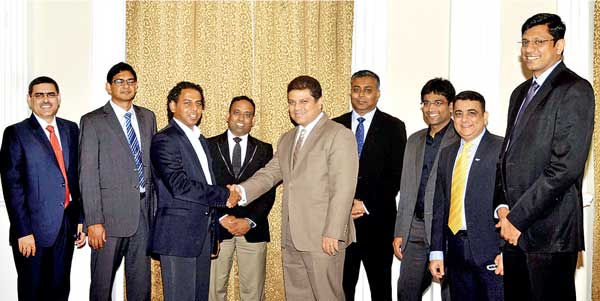 SAP Indian Subcontinent President and Managing Director Deb Deep Sengupta (Right) and SLSUG Chairperson Ramesh Shanmuganathan (Left) exchanging a handshake while the members of the newly established independent group look on
By Shabiya Ali Ahlam
The local system analysis and programme networking space yesterday received fresh impetus with a global enterprise software leader establishing a user group in Sri Lanka.
Keeping top local industry leaders from eminent business at the helm, SAP SE, a German multinational software corporation that makes enterprise software to manage business operations and customer relations, launched in Colombo the Sri Lanka SAP User Group (SLSUG).

The SLSUG comprises of independent SAP users and is made up of people and organisations that wish to connect, collaborate, and co-innovate.
The launch of the not-for-profit independent industry association is to provide information, access, and advocacy for SAP customers and professionals. Furthermore it is to facilitate the exchange of best practices, experiences, and exertion of influence.

Whilst closely collaborating with SAP, the newly established user group would represent the opinions and interests of local businesses and help the entity better understand the needs and requirements of
its customers.

Addressing the launch event, SAP Indian Subcontinent President and Managing Director Deb Deep Sengupta stressed that Sri Lanka is a priority market for SAP and by supporting SLSUG the aim is to provide a platform to customers to "effectively engage with each other and enhance overall
value realisation."

"Customers are at the core an in this stage of digital transformation we are committed to enable Sri Lankan business to run live with SAP," said Sengupta.
Commenting on the relevance of the group to the local scene, SLSUG Chairperson Ramesh Shanmuganathan added that as a fully independent group the larger goal would be to enhance the overall SAP experience for all local customers, while impacting product portfolio development to address the needs of existing members.

SAP has user groups worldwide operating as independent bodies. They include Americas' SAP User Group, India User Group of SAP, SAP Australian Usr Group, and German-Speaking SAP User Group.
SAP has been in Sri Lanka since 1999 and has grown to support over 100 businesses in the last two decades. In a global context, SAP applications and services enable approximately 310,000 businesses and public sector customers to operate profitably, adapt continuously, and grow in a
sustainable manner
Pic by Kithsiri De Mel