---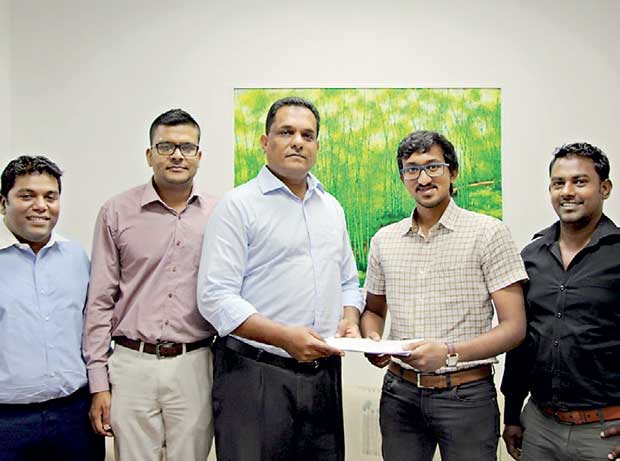 From left: SLASSCOM Vice Chairman Jeevan Gnanam, Executive Director Dharshan Cooray, Chairman Arul Sivagananathan with ReadMe Co-Founders Enosh Praveen and Andrew Jebaraj
With the dawn of a brand-new year and a range of milestones and targets set in place to be achieved over the next few years, ReadMe – Sri Lanka's premier IT magazine, and Sri Lankan Association of Software and Services Companies (SLASSCOM) signed a memorandum of understanding (MoU) recently.
With the signing of this MoU, ReadMe joins hands with SLASSCOM initiatives to promote the Sri Lankan IT/BPM industry growth and facilitate in the groundwork for the goals set to be achieved over the next few years.
SLASSCOM, which is active in many aspects of the booming IT/BPM industry, aims to be a catalyst for the growth of the Sri Lankan IT/BPM industry.
As part of its move towards achieving this goal, SLASSCOM has managed to strike fruitful partnerships, with the government to formulate policies and with stakeholders to promote the industry in global markets. In addition, SLASSCOM also encourages its members to uphold world-class standards and expand the quality of the IT/BPM professionals in Sri Lanka.
In a statement shared at this occasion, SLASSCOM Chairman Dr. Arul Sivagananathan stated, "The SLASSCOM and ReadMe MoU signifies the IT/BPM industry's commitment towards creating awareness on employment, market development and investment opportunities accessible to key stakeholders locally and internationally."
He went onto say, "SLASSCOM's focus on innovation and knowledge development will help the local IT/BPM industry collaborate with partners such as ReadMe to develop the local industry's market access and develop capacity together with all like-minded organisations and individuals working towards surpassing the industry's 2022 target of US $ 5 billion in revenue, 200,000 in employment and 1000 start-ups and achieving exponential and sustainable growth of the local economy in line with the country's full potential for future generations."
Commenting on the signing of this MoU, ReadMe Co-Founders Andrew Jebaraj and Enosh Praveen in a joint statement said, "Since ReadMe's inception, our focus has been to give recognition and insight into the local IT industry forward. This is why we have always stood by and supported SLASSCOM's initiatives to facilitate the local IT/BPM industry growth."
Founded in 2012, ReadMe has gained popularity in the IT industry for providing unbiased news based on tech developments in Sri Lanka and across the world. Today, it has publications on a variety of platforms, which include web, print, social media and radio. Ranging from well researched reviews to event coverages, which include tech conferences and hackathons to exclusive features on start-ups and entrepreneurs, ReadMe has been at the forefront of the latest and greatest in the Sri Lankan tech industry.
SLASSCOM is a local IT industry body whose objective is to be a catalyst of growth of the Sri Lankan IT and BPM industry. It does so by facilitating trade and business, propagation of education and employment, encouragement of research and innovation and by supporting the creation of a progressive national policy framework.