---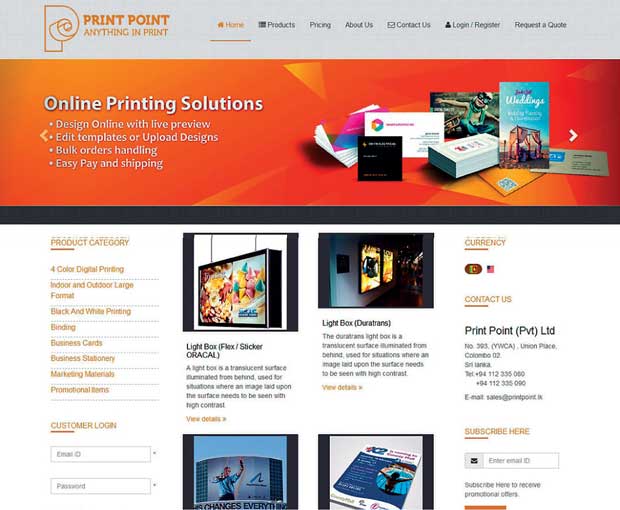 An exciting new online design and print ordering resource has been unveiled in Sri Lanka by Print Point (Pvt.) Ltd, a leading on-demand, quick-print digital printing specialist.
Anythinginprinting.com (www.anythinginprinting.com), the new web2print portal, enables customers to design anything from a visiting card to a 10-foot large-format banner by customising templates on the site, entering their specifications, calculating the print cost and confirming and paying for the job, all from the convenience of their homes or offices.
The printed material can be picked up from the Print Point office at Union Place, Colombo 2 or be delivered to the customer's address. According to the owner of the service, the process can result in up to 70 percent faster order turnaround when compared with working with a graphic designer and visiting the print outlet.
The site can also be accessed and used via a smartphone with no loss in functionality, the company said.
"This facility is perfect for small, urgent print jobs of individuals and corporate entities because it saves time, costs and hassle," said Papyrus Corporation Chairman and CEO Ashan Abeyesundere.
Papyrus Corporation owns Print Point and Anythinginprinting.com.
"It is also very useful for repeat printing because the system allows users to save their artwork for later use."
He said the complete range of printing services on offer at Print Point's new purpose-built digital printing facility at Union Place can be accessed by the web portal. Print Point is equipped to produce visiting cards, letterheads, brochures, flyers, leaflets, certificates, books, plastic identification cards, invitations, event IDs, posters, envelopes, desktop calendars, menus, ticket books, promotional stands, pennants, banners, 'X' stands, pull-up stands, outdoor stickers, light boxes, wedding cards, artistic canvasses and personalised mugs and also offers book binding services.
"We believe that web2print is the future of quick printing in Sri Lanka, as has already been proven in many parts of the world," Abeyesundere added.
"People's lives are getting busier by the day and the hassle of negotiating Colombo's traffic alone is enough to motivate them to use an online portal."
Print Point (Pvt.) Ltd is a fully-owned subsidiary of Papyrus Corporation, which also owns companies such as JAMPhoto, the company that pioneered the production of digitally printed photobooks in Sri Lanka and is the undisputed leader in the segment, and Papyrus Papers, which has established itself as the market leader with a 70 percent share of the country's fine and specialty papers market. Ashalin Investments (Pvt.) Ltd is
the group's property management company.