---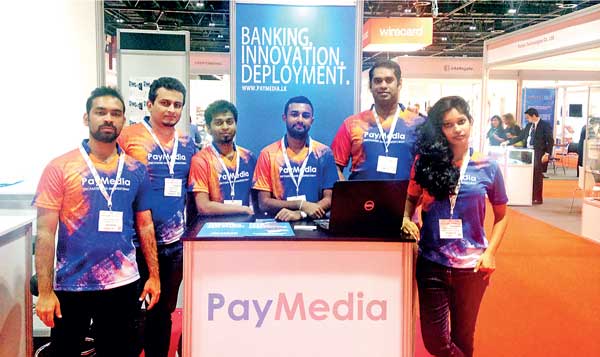 PayMedia team
PayMedia Private Limited, one of the hottest new technology start-ups in Sri Lanka in the FinTech area, after just over an year of operations has been making waves in both the local and global market having also bagged a range of top-notch awards at the National Best Quality Software Awards (NBQSA) last year.

Reaching another significant milestone in its journey of success, PayMedia has now been chosen to present four of its latest product innovations at two of the leading entrepreneur forums overseas namely Gitex, which is amongst the top three largest start-up events in the world in Dubai yesterday and the Gartner Symposium in Gold Coast Australia on October 24, 2016.

Gitex has been instrumental in launching the global start-up movement with over 400 entrepreneurs, 250 regional, global VCs and investors and mentors from 60 countries, whilst the Gartner Symposium is slated as the world's most important gathering of CIOs and senior IT executives that attracts over 24,000 attendees along with over 7000 CIOs from the world's most innovative organisations.
PayMedia will be showcasing its four new products at both these forums and will be vying with top start-up companies from all over the world.

The four new products that PayMedia will be presenting includes the first being an electronic PIN distribution solution that will enable retailers with daily transaction monitoring, POS management and activation, PIN stock controlling and payments and credit management. The second product is an electronic wallet solution that enables consumers to make financial and nonfinancial transactions using smartphones that act as their electronic wallet. With this innovative solution consumers can pay for goods and services, both transfer or withdraw money or request for funds.

The other two innovations by PayMedia comprises of a microfinance mobile application that makes payment collections an easy task for agents. It has a daily collection monitoring component along with geo tracking and analysing risk all enabled through a cloud platform. The next innovative solution is an electronic bill presentment and settlement solutions that will give the user the benefit of e-statements, bill aggregation, automated payments and settlements, bill analyser and easy reconciliation of payments all of which can be done over the Internet, mobile or through a kiosk.

PayMedia (Pvt.) Ltd Founder Kanishka Weeramunda stated, "Innovation today is a top priority of survival amongst companies as we step forward to face the challenges of an ever changing world that constantly demands the best, with many products going obsolete over a short period of time. This makes it essential that we need to be constantly innovating to produce products and brands that will be relevant to the different markets and industries we operate in."

"We, at PayMedia, are excited to be chosen to profile our latest products at these key forums which will give us a chance of competing and sharing this space with some of the most revolutionary and disruptive minds and the chance to work in partnership with some of the influential industry leaders from the technology community," he added.