---

From left: Metropolitan Telecom Services Director Sanjeev Ariaratnam, Metropolitan Telecom Services Head of Sales Nalaka Dharmasuriya, Metropolitan Telecom Services Brand Manager E.M. Tharindra Niroshan, Panasonic Pranay Dhabhani, Panasonic Shivender Malhotra and Panasonic Takuya Sunhase
By Zahara Zuhair
Panasonic India announced the appointment of Metropolitan Telecom Services (Pvt.) Ltd, as its distribution partner in Sri Lanka at an event held in Colombo which also saw the launch of six new smartphones.
Through this partnership Panasonic expects to expand its presence in the country as part of its business growth strategy and said that they are looking forward to expand their product portfolio in Sri Lanka.
The prime objective of this partnership is to engage local consumers at a closer level in order to strengthen Panasonic's brand connectivity in the country.
Panasonic India Business Head Mobility Division Pankaj Rana said that Metropolitan's wide reach and in-depth distribution practices will allow Panasonic India to introduce its smartphones into the local markets using an aggressive marketing strategy.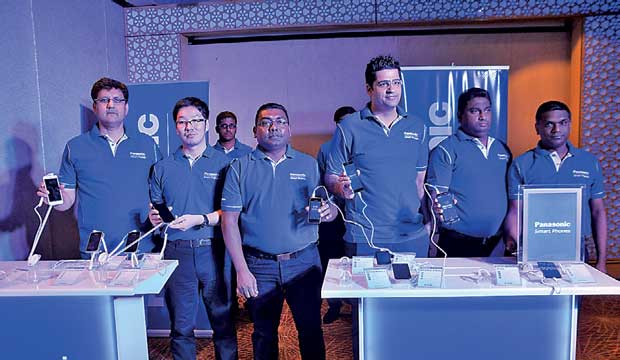 "Metropolitan Telecom's experience in mobile handset distribution and excellence in after sales are sure to help Panasonic's growth trajectory," he stressed.
The phones that launched were; Eluga Prim, Eluga Mark 2, T44, T30, P88 and P77 which will be priced Rs. 7990 upwards.
Talking about the phones Rana said, "Panasonic smartphones will offer Sri Lankans a long list of features including its major USP, trust in the design and reliability of the Panasonic brand,"
"What we have achieved, we were able to introduce textured glass finished cover. This was a signature that is not available in other devices. We will keep on doing such innovation in terms of design," they added.
Going forward, they said that they will be coming up with newest versions of Android as the phones that were launched include Marshmallow and Lollipop versions.
It was noted the though Panasonic does not have an universal presence, they have been able to secure a strong presence in the markets that they are already available such as Middle Eastern, South Asian and African countries.
They said that though it appeared to be a new brand to Sri Lanka, Panasonic had been in Sri Lanka since 1971 starting with motor cars.
Metropolitan Telecom Services Director Sanjeev Ariaratnam said that they are privileged to join with Panasonic to bring in Japanese technology to Sri Lanka in the mobile phone arena.
"Indeed it is a pleasure to join hands with Panasonic and I'm confident to take this brand to the next level," he said. He said that it is a great milestone in Metropolitan's history which also distributes brands such as Canon, Micromax etc, throughout its 2500 shops in Sri Lanka and with 15 service centres.
Panasonic Corporation, headquartered in Japan, which celebrates 100 years in two years time, offers diverse electronics, technologies and solutions for customers in the consumer electronics, housing, automotive, enterprise solutions and device industries.
Since 1918, the company has expanded globally and now operates 474 subsidiary and 94 associated companies worldwide, recording consolidated net sales of 7.553 trillion yen for the year ended March 31, 2016.
Metropolitan Holdings Private Limited, established in 1958 has eight subsidiary companies and it was noted that in recent times it has diversified into national scale technology infrastructure projects spearheading and shaping Sri Lanka's technology infrastructure landscape.