---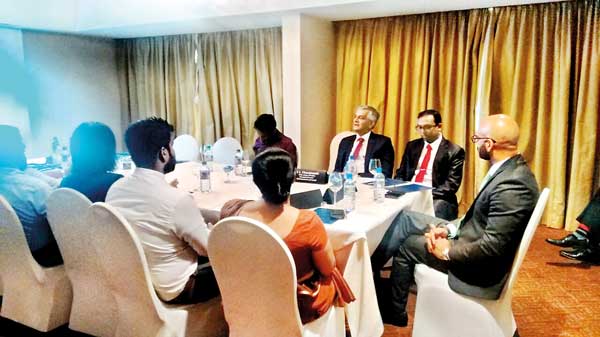 The media round table with SriLankan Airlines Ltd, Manager IT Business Systems Gayanika Gunasekara, Capital Alliance PLC Head of IT Tharaka Perera, DMS Software Technologies (Pvt) Ltd Managing Director T. L. Chandranath qne Oracle Corporation Director Sri Lanka and Maldives Country Manager Chandita Samaranayake
By Zahara Zuhair
In an attempt to give exposure to Sri Lankan companies to adopt to the cloud technology to streamline their business processors, Oracle Sri Lanka shared its expertise and ability along with its customers at a media briefing in Colombo recently.

"There was an era where customers used to have their own Information Technology (IT) departments, where they invest a lot in IT infrastructure, which was not their core
business. Their core business was their respective industries.
What we do is taking that burden from their businesses, making it our responsibility, so that they have time to innovate. So our team is all about giving time for customers for innovations," said Oracle Corporation Director Sri Lanka and Maldives Country Manager Chandita Samaranayake.

"Today customers want to adopt fast for the ever changing requirements and needs. About five years back they needed quality data to take decisions.
But today, be it a CEO, HR or sales agent they want to take decisions on the go, they don't want to wait for long to take reports, they want to get
real time information to take decisions," he explained.

Explaining how Oracle is addressing this need, he said that they have adopted this cloud technology which is the way forward and help businesses to streamline their business processors.
"We provide a solution which is modern, globalised, secured with best practices," he said.

"End of the day, the customer will be looking at cost cutting, employee productivity, talent management, improving sales, so we help them to streamline their businesses.
This is what we are focusing, we look at the entire process, from hiring the employee to retirement, everything is looked at and available on cloud,"
he said.

Talking about data security, he said that customers biggest concern is how they can be assured about data security and he noted that Oracle is one of the best secured data base companies in the world. Giving an overview of their business, he said that they have 19 data centres around the globe and have invested US $ 5 billion for Research and Development (R & D). Also they have 31 billion transactions each day happening on their data centres.
He said that they cloud for all solutions which includes cash management, budgeting, HR, procurement, reporting and analytics etc.
Sharing their experience, SriLankan Airlines Ltd, Manager IT Business Systems Gayanika Gunasekara said
that they have been an Oracle customer since 1999.

"With the recent demand, the management they want to have on-time data, not to process anything and get reports and analyse. So Oracle is beneficial for the management,"
she said.
She added, "We know the pain and the work load the internal IT team has to do, the Oracle will take over that pain, and they will say the new version is available which we adopt,"
Another customer who has adopted the Oracle cloud technology is DMS Software Technologies (Pvt) Ltd. Representing the company, Managing Director T. L. Chandranath told Mirror Business that they have partnered Oracle for over two decades, initially brought the Oracle Database technology to market and later on their ERP applications (known as EBS).

He said that they also have internally implemented the Oracle ERP applications within the company that has brought many benefits to streamline business processes for them.
"Recently we signed up for Oracle's mid market cloud HCM (Human Capital Management) application. It will cover HR, workforce analytics, performance management and career development," he said.
According to the Managing Director, the benefits of this system are that they have a better insight to the human resource, employees will have a better visibility to their situation and career progression, builds an internal capability to take this technology to the market and helps to stream line the current manual process that is unwieldy.