---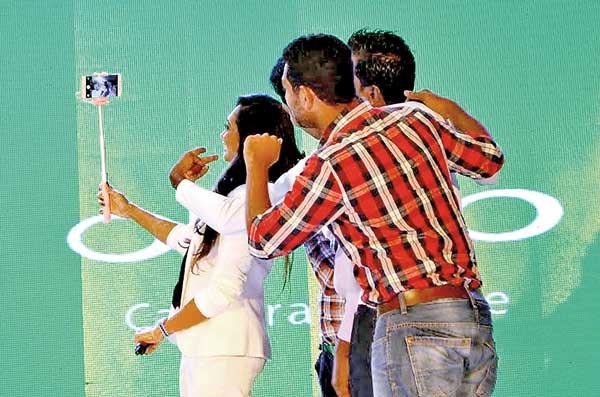 By Zahara Zuhair
Taking the 'Selfie Expert' to another level, OPPO launched its upgraded phone, 'OPPO F1 Plus' in Colombo recently.

Product Manager Sandun Manage, said that OPPO phones are developed to make sure that the fans get a fantastic selfie experience and after seeing the F1 success they decided to bring in the F1 Plus to the Sri Lankan market.

"What makes it special is it has focused on photography technology," he said.
He said the company considered few key areas when developing the phone, as selfie option is one of them.

"The secret of a good selfie is the combination of a great outstanding software and hardware which OPPO has, F1 Plus has an updated software which is 4.0," he said.
He said that the finger print technology OPPO has is the fastest in the world which unlocks the phone in 0.2 seconds. He said that when the phone is charged for 5 minutes the customer could talk for 2 hours.

The 16 Megapixel Front-facing camera has the ability to pick up four times the incoming light which is paired with selfie panorama feature, beautify 4.0 and the front-facing screen flash. It includes various filters available to help the customer's selfie stand out.

Another feature is where the customers could take control of the picture colour at the real time. He added compared to a normal camera, F1 Plus has clear images and the low noise level.
Briefing about the performance, Overseas Brand Director Kevin Law said, in terms of sales, this year they showcased 18.5 million shipments in the first Quarter, which is a 153.2 percent growth. He noted that the customer satisfaction was 90.1 percent.

Further, it includes features such as full metal unibody design, good battery life, fast charging etc.
The phone comes in Gold and Rose Gold colours and is priced at Rs.66,990. Also OPPO provides its customers the option of pre - ordering the products through Takas.lk.

OPPO is a global electronics and technology service provider found in 2004. OPPO entered into the mobile phone market in 2008 and available in 21markets worldwide at present. Furthermore, the International Cricket Council (ICC) is in a partnership with OPPO on a four-year deal which runs from 2016 - 2020.