---
Eight zetabytes of data are coming from tens of millions of devices. Where are you going to put the data, and what are you going to do with it? Siddhartha Agarwal, Vice President of Product Management and Strategy for Oracle Cloud Platform and Oracle Fusion Middleware, talked with Mirror Business about the Internet of Things (IoT), strategies for managing IoT data, and features of Oracle Internet of Things Cloud Service that will put IoT data to work for you. Following is a chat with Oracle's Siddarth Agarwal on Internet of Things at work.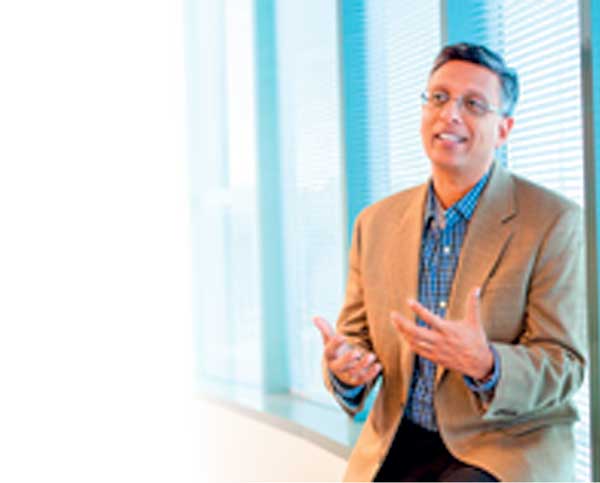 Siddhartha Agarwal
The Internet of Things includes billions of information-gathering devices, but what will IoT mean to most enterprises?
While the early focus of IoT has been on consumer-driven use cases such as internet gadgets, smartwatches, and connected cars, enterprise verticals such as manufacturing, transportation and logistics, healthcare, and utilities will see a bigger and faster return on investment from IoT.
IoT will provide these business segments with more-valuable information about their products, how they perform, and how they are being used. This information will drive insights into what they need to support the development of new products, services, and business models. IoT in the enterprise is a broad space with incredible new opportunities for managing, analyzing, and acting on the volume, variety, and velocity of data being generated by various devices.
IoT for the enterprise also provides the ability to connect the operations technology [OT] world of systems technology residing on the manufacturing plant floor to the IT world of back-end business applications and processes. Manufacturing today is mostly driven by manual processes and reactive controls. When something goes wrong, that condition is typically detected by humans, who then fill out paperwork, which then gets manually entered into business applications to trigger a remedial workflow. IoT changes the current worlds of OT and IT by automating monitoring and control and efficiently bridging those worlds.

What is Oracle's IoT strategy?
Oracle looks at IoT from the business applications out instead of from edge devices in. Other vendors look at device connectivity, then apply some analytics and leave it to someone else to worry about integrating everything with business systems.
The Oracle strategy is to help extend the reach of business applications to devices, get insights from these devices that can be leveraged to drive actions inside the business applications, and have these applications act securely upon the devices.
In addition, Oracle's IoT strategy gives businesses the ability to build rich mobile front ends to drive actions in the field, such as process automation to kick off complex business processes across multiple apps, big data analytics on the data, and a secure interaction between business apps and the edge devices.
This strategy is also enabling Oracle customers to get value from IoT in short bursts of three to four months rather than one big-bang-style 12- to 18-month IoT project.

What is Oracle Internet of Things Cloud Service?
Oracle Internet of Things Cloud Service is a cloud-based, platform-as-a-service [PaaS] offering that enables customers to securely connect to any device generating data, perform real-time and predictive analytics on device data, and extend business processes within enterprise applications.
Oracle Internet of Things Cloud Service delivers the ability to collect device data being streamed in very large volumes and make real-time decisions close to the edge. It also gives you a virtual representation of devices, so users can interact with devices without needing to know how to program them.
Oracle Internet of Things Cloud Service also provides predictive analytics and pattern matching out of the box to enable real-time decisions on complex metrics. To extend the value of IoT data, Oracle Internet of Things Cloud Service is also integrated with many other Oracle Cloud services, such as Oracle Business Intelligence Cloud Service, Oracle Mobile Cloud Service, and Oracle Integration Cloud Service.
And finally, Oracle Internet of Things Cloud Service does an excellent job bridging that disconnect that I mentioned earlier between the OT and IT worlds with prebuilt integrations for both on-premises and SaaS [software as a service] applications such as Oracle E-Business Suite, Oracle's JD Edwards, Oracle Sales Cloud, and Oracle Service Cloud, as well as non-Oracle applications.
And because of the integration with Oracle PaaS, SaaS, and on-premises Oracle apps, Oracle Internet of Things Cloud Service empowers companies to unlock even greater business value from the many Oracle technologies and applications they already rely on to run their businesses.