---
Sri Lanka's technologically-driven market today forms an integral part of the global cyberspace. Characterised by a rapidly growing economy, companies are adopting technology solutions to remain competitive as well as to boost productivity.
The exponential growth in cyberspace has introduced organisations to rapidly evolving cyber threats. Given this heightened awareness for cyber security, organisations are looking to partner with industry leaders to enhance their security outlook.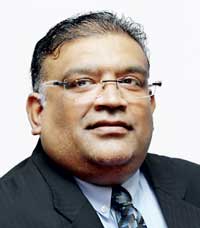 As the threat landscape continues to accelerate in capability and scale, the conversation has elevated to a boardroom mainstay. Security has evolved from a support conversation to a boardroom agenda and CTOs as well as CSOs are now expected to build a bigger role for IT to demonstrate that technology can actually deliver what the business wants, in a secure fashion.
Addressing this growing demand and establishing their commitment to the market, Intel Security, announced the successful culmination of the Sri Lanka Executive Forum conducted in Colombo. The event was conducted under the overarching theme of 'New. Next. Security in Focus' and offered insights on evolving trends in cyber security to make security a priority boardroom discussion.
Intel Security conducted the forum for its customers in conjunction with its Sri Lankan partner, South Asian Technologies Limited (SATL). Under the 'New. Next Security in Focus' theme, Intel Security showcased its latest strategy of unifying the entire Threat Defense Lifecycle (TDL) for security to become the number one security vendor for their customers in the region.
The forum saw attendance from CTOs, CIOs and key decision makers in organisations, who were keen to understand the role that Intel Security could play as a leading security vendor in mitigating cyber risks for their organisations spread across Sri Lanka.
TDL is characterised by the adoption of the Protect, Detect and Attack stance which addresses the rising volume of complex cyber threats that plague organisations. This strategy will enable customers in Sri Lanka to more aggressively as well as effectively defend themselves against data breaches and targeted attacks. Intel Security showcased how automating certain aspects of the Threat Defense Lifecycle would enable organisations to effectively block threats, identify compromises, and expedite remediation of cyber threats.
Speaking about the forum, Managing Director, India & SAARC, Intel Security Jagdish Mahapatra said, "The adoption of technologies and digital solutions not only opens new avenues for business but also introduces organisations to rapidly evolving cyber threats. Given its burgeoning economy, the Sri Lankan market for cyber security solutions and products is expected to rise exponentially, and organisations are now gearing up to invest considerably in security solutions to enhance their risk posture. With our latest strategy, we aim to become the number one security partner for customers and we are happy work with South Asian Technologies Limited in doing so".
CEO and VP at South Asian Technologies Limited Sanjaya Padmaperuma said, "The widespread adoption of cyberspace has created borderless societies, providing unprecedented opportunities to stimulate economies. OrganiSations in the BFSI, telecom and ITeS segments are driving the adoption of solutions for securing their networks as well as multiple endpoints from cyber-threats. We are therefore geared to strengthen the security postures of our customers by partnering with Intel Security."
The Sri Lanka chapter of Intel Security's Executive Forum helped showcase the company's commitment to enable a safe and connected world for its customers. Partners also shared their confidence in Intel Security's plan to focus on highlighting the need for integrated, open security systems with cloud-first technology to resolve threats faster with fewer resources.