---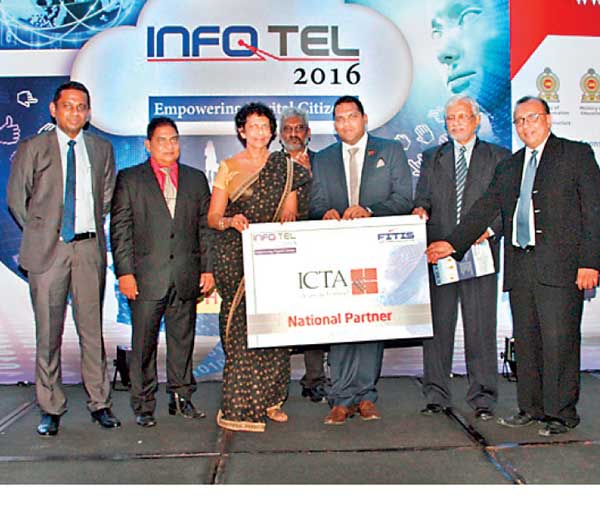 ICTA making a token presentation to signify its role as the national partner of the Infotel–2016 exhibition to FITIS, the event's organizer. From left:Secretary, FITIS, Pujitha Rajapakse, Chairman, Infotel main organizing committee, Sudath Amarasinghe, Chairperson, ICTA, Chithrangani Mubarak, Chairman, FITIS, Wasantha Weerakoon, Minister Harin Fernando, Secretary, Ministry of Telecommunication and Digital Infrastructure, Wasantha Deshapriya, Deputy Chairman, FITIS, Dr. Kithsiri Manchanayakke
Information and Communication Technology Agency of Sri Lanka (ICTA) has come forward as the national partner of Sri Lanka's flagship ICT expo 'Infotel' for the year 2016. The exhibition will be held from 11th to 13th November at the BMICH under the theme of "Empowering Digital Citizens".

This event is organized by the Federation of Information Technology Industry of Sri Lanka (FITIS) with the endorsement of the Ministry of Telecommunications and Digital Infrastructure, Ministry of Higher Education, Ministry of Education, Ministry of Defense and the Ministry of Foreign Affairs. SLASSCOM, CSSL and BCS Sri Lanka Chapter join as industry partners for Infotel -2016.

Speaking about the Infotel -2016, Minister of Telecommunication and Digital Infrastructure, Harin Fernando said the theme of the Infotel–2016 exhibition is topical and absolutely relevant in an era where the entire world is swiftly going digital. The objective of the government is to provide digital facilities to every citizen of the country.

"The government is making an untiring effort to develop digital infrastructure to make this vital facility easily accessible to the people across the country. I believe that achieving the goal of total digitalization will translate into productive and viable development which will reflect positively on the lives of the masses," he stressed.

Over the years, Infotel has earned a reputation as the pinnacle ICT event in the calendar of all those actively involved in the field. They consider it a 'must' to visit this eagerly-awaited, innovative exhibition which, in itself, offers a refreshing experience, said FITIS Chairman, Wasantha Weerakoon.

Extending an invitation to all Sri Lankans to visit Infotel–2016 exhibition from November 11th to 13th at the BMICH, Wasantha Weerakoon assured that it will be a productive learning experience which will enrich their lives.

Infotel 2016 is supported by ICTA as the national partner while Sri Lanka Telecom joins as the principal sponsor. Infotel 2016 is also supported by Orange IT as the gold sponsor, Wijeya Newspapers at print media partner, Textware as mobile media partner, Java Institute of Advanced Technology as silver sponsor, ABC Trade and Investment and online shopping partner, PayHere as digital payment partner, ESOFT Metro Campus as educational partner, Sala Enterprises as silver sponsor and ATOM as digital signage partner.