---
Hutch, one of the fastest growing mobile broadband telecommunication companies in Sri Lanka, has introduced yet another industry first with the launch of the 'On Screen Buddy'.
Today mobile subscribers generally have two main interactions with their internet service; one is to check their account balances and the other activate packs. To do this previously, they had to remember short codes or download and access a self-care app which can be inconvenient to
online subscribers.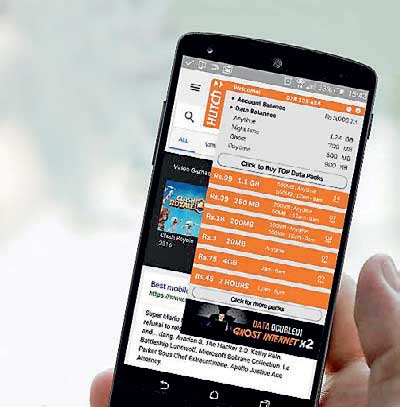 Hutch has introduced the On Screen Buddy directly onto the smartphone subscriber's screen, irrespective of which browser being used. A small Hutch logo appears on the side of the screen that can be tapped swiftly to expand and show the subscribers detailed balance and enable to conveniently activate popular data packs directly on the screen itself without exiting the screen.
The subscriber will therefore be constantly aware of his balances and can pre-purchase additional packs before running out of balance resulting in suddenly interrupting their
internet experience.
Commenting on the latest introduction, Hutch Sri Lanka, Chief Executive Officer, Thirukumar Nadarasa said, "Hutch continuously strives to bring innovative service features to our subscribers to enable them to more conveniently access and use Hutch services without interruption. The Hutch On Screen Buddy epitomizes the company's continuous efforts into finding solutions to customer pain points and crafting innovative leading edge solutions using the latest technology available."
It's a completely free-of-charge service with the sole aim of taking an additional leap ahead in assisting subscribers managing one's mobile account. The on screen tab can be closed temporarily from the screen or even unsubscribed to permanently if not required by
the customer.