---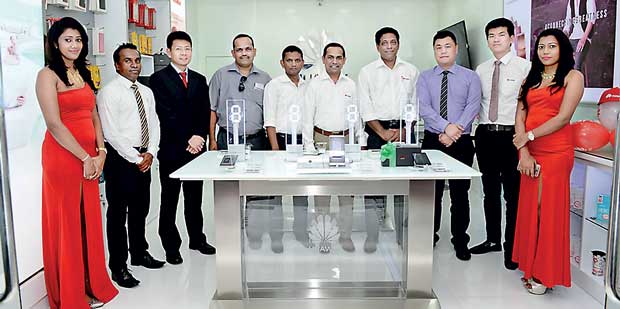 From Left: Huawei Device Sri Lanka Marketing Manager Ruwan Gamage, Huawei Sri Lanka CEO Shunli Wang, Singer Sri Lanka PLC Senior Operations Manager Sadique M. Hanas, Phonez Proprietor Mohamed Rushdi, Singer Sri Lanka PLC Business Development Manager Jagath Perera and Director Operations Chandana Samarasinghe, Huawei Sri Lanka Country Head Device – Henry Liu and Retail Manager Parker Qian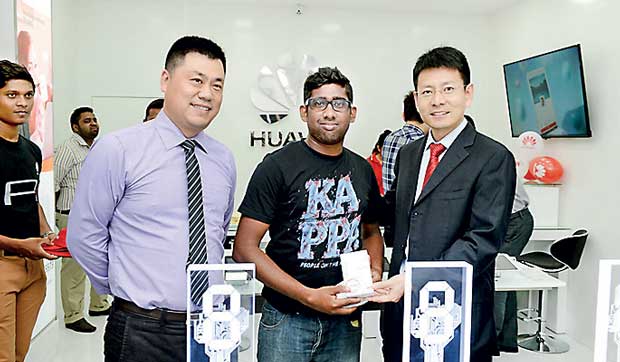 First customer receiving his Huawei smartphone from Huawei Sri Lanka CEO Shunli Wang and Country Head Device – Henry Liu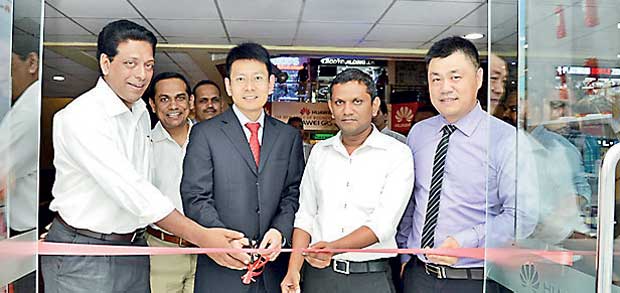 From left: Singer Sri Lanka PLC Director Operations Chandana Samarasinghe, Business Development Manager Jagath Perera, Huawei Sri Lanka CEO Shunli Wang, Phonez Proprietor Mohamed Rushdi and Huawei Sri Lanka Country Head Device – Henry Liu ceremoniously declares open the new Huawei Experience Store in Sri Lanka
Huawei, Sri Lanka's fastest growing smartphone announced the launch of its new Experience Store in the heart of Colombo, at Majestic City level 2, showcasing their commitment to the country.
The Experience Store was inaugurated by Shunli Wang – CEO Huawei Sri Lanka, Henry Liu - Country Head Huawei Device Sri Lanka and representatives of Singer Sri Lanka PLC.

The new Experience Store features latest technology from Huawei and will provide an ideal opportunity for Huawei consumers to experience and purchase their dream Huawei smartphone and accessories which comes with an unmatched pricing, highest quality and excellent after sales and service support by Singer Sri Lanka PLC.

In Sri Lanka there are 19 Huawei Dealer Networks and service centres, with the new addition the company further intensifies its distribution and accessibility locally. The company also announced that the local market grew by 200 percent in 2014 and over 300 percent growth in H1 2015 which is a record achievement of sales. Commenting about the development Henry Liu - Country Head, Huawei Device Sri Lanka explained, "We are planning to achieve an overall market share increase of 30 percent by the end of Q4 FY16. We remain committed to Sri Lanka, and the opening of the Huawei Experience Store in Colombo exemplifies our focus to offer the best quality service and accessibility to latest technological advancements to our customers for an unbelievable price". He further added, "Huawei is becoming a popular smartphone brand among Sri Lankan consumers through the establishment of an emotional connection between the brand and its users and our strong support and distribution through SINGER makes the brand complete".

At the end of February Huawei launched two new smartphones featuring the high tech fingerprint sensor technology with the introduction of the high end smartphone Huawei Mate 8 and the mid-range Huawei GR5 product. Both products are receiving excellent feedback from the customers locally and are high sold smartphones in 2016. Huawei is striving to achieve the goals of US$ 20 billion sales, through 100 million global smartphone output. The company is strategically investing in new areas including smart wearable devices and smart home. With its advantage in mobile broadband connection, Huawei is aimed to provide better and smarter service to consumers by identifying opportunities of Internet of Vehicles and Internet of Things, combining big data with cloud service and establishing "hardware+software+service" business model. Data from GFK one of the largest market research organisations in the world, show from March to September, Huawei was leading in China's smartphone market with shares of 12.9 percent, 13.6 percent, 14.4 percent, 15.2 percent, 14.9 percent, 14.9 percent and 15.2 percent respectively; in August, Huawei occupied 27.5 percent in high end smartphone market pricing 3000 to 4000 yuan, only next to Apple with 30.1 percent market share.