---
At CeBIT 2017 from March 20 to 24, Huawei is joining hands with 100 partners to exhibit ICT strategies and solutions under the theme of 'Leading New ICT, The Road to Digital Transformation'.
In a booth of over-3500 square meters located at C30 in Hall 2 of the Hannover Exhibition Center, Huawei is demonstrating innovative ICT and solutions across business, technology, and ecosystem exhibition areas, and is sharing digital transformation best practices and methodologies to help global customers and partners advance their digital businesses.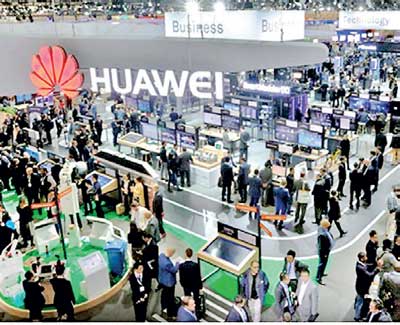 Huawei Enterprise Business Group's strategy and goals are aligned with CeBIT 2017's theme of "d!conomy – no limits", providing decision-makers with guidance on economic and public management, digital society, and digital transformation.
At CeBIT 2017, Huawei is launching the Global OpenLab Program to promote implementation of the "Platform + Ecosystem" strategy. This programme will bring together leading business partners to build capabilities to innovate industry-specific solutions, providing the building blocks of an ICT ecosystem that powers the future smart society. Huawei plans to set up a further 15 OpenLabs in the following three years, with a total investment of US$ 200 million. By the end of 2019, there will be a total of 20 OpenLabs worldwide.
Over one-third of the Fortune 500 companies have chosen Huawei as their digital transformation partner and over 40 percent of these companies rank as the world's top 100. At CeBIT 2017, Huawei and leading industry partners will announce joint solutions and share success stories, including:
In the smart city arena, Huawei and Veolia are jointly rolling out a Storm Water and Flood Management Solution based on NB-IoT to scientifically set up emergency measures. In addition, Huawei and Frequentis are jointly developing an open ecosystem for public safety solutions to enable safer cities. Huawei and Honeywell are also jointly launching a smart building solution that enables intelligent management of buildings and reduce energy consumption.
In the finance industry, Accenture will share a financial Big Data solution based on Huawei's Big Data platform. Huawei and Infosys are jointly launching the Finacle@Kunlun solution to help banks reconstruct IT infrastructure and upper-layer applications.
In the energy industry, Huawei is joining hands with SAP to release an Advanced Metering Infrastructure (AMI) solution that enables the construction of a power IoT ecosystem in the Smart Grid age. With the joint efforts of State Grid Tianjin Electric Power Company, Huawei is unveiling a wireless dedicated power network solution to help power companies implement automated power distribution and intelligent metering.
In the transportation industry, Huawei and transportation industry technology solutions provider Indra is signing a global cooperation MOU, based on Huawei's global R&D platform to jointly develop end-to-end transportation ICT solutions to help expand the market.
In the public cloud area, customers that are using the Open Telekom Cloud jointly developed by Huawei and Deutsche Telekom will share the latest applications of the solution – the European Organization for Nuclear Research (CERN) will share its experience of applying the Open Telekom Cloud in the Helix Nebulae Science Cloud project; German lighting system manufacturer SLV is announcing that it will deploy an IoT platform based on the Open Telekom Cloud and launch smart home projects.