---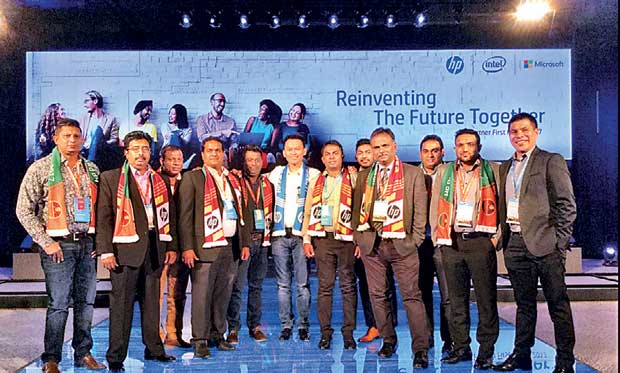 The HP Partner First Forum was held in Seoul, Korea in February 2017 under the theme 'Reinventing the Future Together'.
Over 300 invitees representing HP Partners in South East Asia, Cambodia, Laos, Myanmar and Asian Emerging Countries - including Sri Lanka participated in this event.
The forum offered partners a unique opportunity to experience first-hand HP's latest products and solutions and to hear the latest innovations and trends from experts. During this event four key sessions highlighted PC and services, mobility and security, print and services and productivity and services.
Senior managers from HP including Richard Bailey, President HP South East Asia, Pacific and Japan; Ng Tian Chong, Vice President and General Manager of Print Systems Asia Pacific and Japan; Anneliesse Olsen Vice President and General Manager of Personal Systems Asia Pacific and Japan and Kong Meng Koh, General Manager and Managing Director South East Asia and Korea conducted sessions at the event.
"The HP Partner Forum was outstanding and had very informative sessions and provided an opportunity for good networking," commented Muralidaran Subramaniam of Sampath Information Technology. While Ali Azhar Business Head – Brands & Distribution of The Technocity (Pvt) Ltd. shared, 'Many useful insights and technological innovations were shared by key HP Managers.'
The game changing event lived up to its theme, "Reinventing the Future Together ", as HP shared with their many key partners mutually beneficial business strategies to adapt to new technologies amid expanding business opportunities and to have a personalised approach to a new generation of customers.
A contingent of 9 Sri Lankan HP distributors and HP commercial partners representing The Technocity (Pvt) Ltd, Redington SL Pvt Ltd., Nalin Information Technologies (Pvt) Ltd., Arc Tech Lanka (Pvt) Ltd., Virus Technologies, Base HP (Pvt) Ltd., Sampath Information (Pvt) Ltd and Sri Lanka State Trading General Corporation Ltd.
attended the Partner First Forum with Christian Reyes, Managing Director - Asian Emerging Countries and Manjula Jayasinghe, Country Manager for HP in Sri Lanka.