---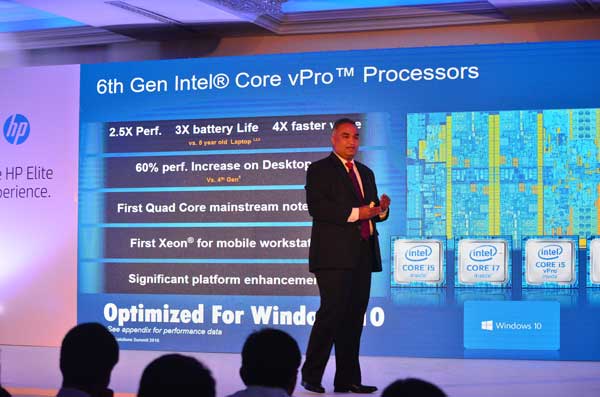 Intel EM Ltd Sri Lanka Liaison Office County Business Manager Indika de Zoysa
HP recently unveiled its latest computing innovations which transform the mobile computing experience. From the thinnest and lightest notebooks to a next-generation mobility platform, the new line-up addresses customers' needs for devices that take them through the rigours of work and the enjoyment of life.

The line-up includes the EliteBook Folio, the thinnest and lightest notebook HP has ever created. The 12.5-inch diagonal notebook features premium craftsmanship with a polished diamond-cut CNC aluminum body to deliver an ultra-thin design that provides strength and durability. Like the Elite family of devices, the EliteBook Folio is designed to pass MIL-STD tests, undergoing 120,000 hours of HP's Total Test Process. The Elite x2 1012, is also the first 2-in-1 tablet built for business which is just 8.1mm3 thin and has a built-in kickstand with 150 degrees of adjustability.

The inspiration for the design comes from the understanding that work and life are converging into 'One Life' and there are no longer boundaries between the two. Workplaces are no longer confined spaces but anywhere with an Internet connection and workstyles involve more collaboration than ever before. Today's workforce, consisting of a growing millennial base, expects the technology they use to fulfil both their business and personal requirements.
"Millennials want the device they use to be stylish and stunning and which gives them the freedom to create and express their aspirations. If they use the device for work, they also want to be sure that it is secure enough and lets them collaborate effortlessly," said HP Asia Pacific and Japan General Manager and Vice President of Personal Systems Business Anneliese Olson.

"At HP, we are constantly pushing the envelope in design, productivity, security and entertainment to build innovative products for 'One Life', so our customers get an enhanced computing experience whether for work or play."
The edge-to-edge glass display of the EliteBook Folio also has an optional Ultra HD (UHD) 4K display, which provides a paper-like display with stunning detail, made possible by an incredible pixel density of 352 pixels per inch. The UHD panel enables 95 percent of the Adobe RGB gamut to make images more vivid and life-like.

For people who require all-day productivity and performance, HP worked with Microsoft Corp. and Intel on the development of the EliteBook Folio, tuning device drivers and the design to optimize performance and battery life. The device includes Windows 10 Pro and is built with an optional sixth generation Intel Core M vPro processor, optimized for high performance and efficiency. This gives the EliteBook Folio the optimal blend of beauty, power, fanless operation and up to 10 hours of battery life.

"Intel's continues to innovate with technologies that enable amazing computing experiences both at work and play," said Intel EM Ltd Sri Lanka Liaison Office County Business Manager Indika de Zoysa.
"Our Sixth Generation Intel Core processors deliver enhanced performance at the lowest power levels ever, delivering extended battery life and enabling enhanced mobility for users."