---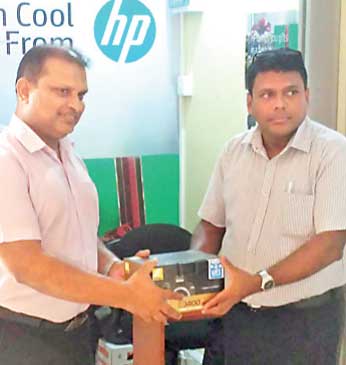 It has been an exciting 3 weeks of non-stop action for HP customers with the HP Gift in a Flash promotion rewarding over 200 customers with fantastic gifts including cameras, mountain bikes, bean bags, HP speakers, HP headsets, HP mice, thumb-drives, mugs and umbrellas.
But the most amazing gift of all, the newly launched HP Spectre 13, the latest in HP's premium range of notebooks and among the thinnest notebooks in the world is yet to be won by a lucky customer out there.

M. Ganesh, a student at SAITM hailing from Jaffna who won a mountain bike said, "HP is my No. 1 choice for laptops because of their latest technology and easy availability."
While Hamza from Colombo who won a bean-bag said, "It's great to win a useful gift. I always believe that HP products are of high quality and we are assured of the best service."
A valuable Nikon 3400 Camera waswon by S.A. Printers, the Managing Director of the company said "It's a dream come true to win this camera, I think the HP Gift in a flash promotion gives great prizes. HP's innovative laptops and printers are my first choice."
The promotion is being carried out throughout Sri Lanka with the participation of authorized HP retail partners. Only selected HP consumer notebooks shared on the HP Sri Lanka Facebook page are valid for this promotion.
Customers who purchase these notebooks or printers from an authorized partner will be given a Gift in a flash scratch card which they can scratch and discover if they have won a gift.
Customers can then visit HP redemption centres at the 3rd floor of the Unity Plaza building in Bambalapitiya or Central Jewellery Stores, Queens Hotel, Kandy where on production of the scratch card and purchase invoice they can receive the gift. Or if the customer makes their purchase from Abans or Singhagiri they can redeem their gifts from Abans and Singhagiri showrooms.
The HP Gift in a flash promotion will continue throughout the season in November and December 2016 bringing joy and fun to thousands of HP customers throughout Sri Lanka. With over Rs.1 million worth of gifts on offer any customer buying a HP product has a great chance of winning a gift.