---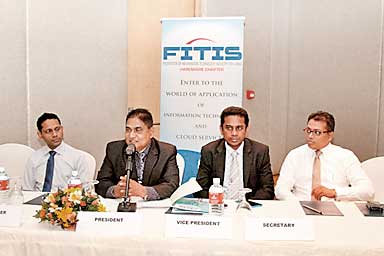 A series of new initiatives will be launched with the core objective of giving an impetus to the overall development of the Information and Communication Technology (ICT), said Sudath Amarasinghe, the newly-elected President of the FITIS Hardware Chapter (SLCVA). Sri Lanka Computer Vendors' Association is the body representing the Hardware Chapter of the Federation of Information Technology Sri Lanka (FITIS).

A leading entrepreneur in the ICT sphere, Sudath Amarasinghe was elected new President at the Annual General Meeting (AGM) of FITIS recently. Amarasinghe is the Founder and Managing Director of Star Computer Systems (Pvt) Ltd. and CEO of Sip - Piyasa eLearning (Pvt.) Ltd. He has been actively involved in the activities including serving as the Chairman Infrastructure Management for the Infotel exhibitions held in 2013, 2014 and 2015 and also Chairman – Infrastructure Organizing Committee of APICTA conference (Asia Pacific Information technology Alliance) held in Sri Lanka. He is a council member of Ceylon Institute of Builder (CIOB) and Past President of Rotary club of Colombo South.

The Executive Committee of this prestigious body was also elected on this occasion. As the new President of the Sri Lanka Computer Vendors' Association, Sudath Amarasinghe also doubles up as the President of the Organizing Committee of the INFOTEL Exhibition– 2016. At the AGM of FITIS, Udaya de Silva and Poojitha Rajapaksha were elected new Vice Presidents of the Sri Lanka Computer Vendors' Association, while Dinesh Kumar was elected Hon. Secretary and Ahamed Shaheer Asst. Secretary, M F Sheriff Treasurer, Prabath Wickramarachchi Asst. Treasurer and Derrick Ferdinandus Immediate Past President. A. Jayaseelan and Thariq Sanoon were newly-elected as Advisers to the Committee.

Outlining the new initiatives earmarked to boost Sri Lanka's ICT sector, Sudath Amarasinghe, the newly-elected President, said:
"Be part of the Government's vision to make Sri Lanka a digitally empowered nation. To facilitate FDI in ICT sector to organize Infotel-2016 exhibition and it will be position as the Premier ICT event in the region. To work closely with Ministry of Telecommunication & Digital Infrastructure and ICT Agency of Sri Lanka in their activities to high light the ICT sector of Sri Lanka globally."

The Sri Lanka ICT Industry Association, The Federation of Information Technology Industry Sri Lanka (FITIS) constitutes the Sri Lanka Computer Vendors Association (SLCVA) – the Hardware Chapter, Sri Lanka Association for the Software Industry (SLASI) – the Software Chapter, Association of Computer Training Organizations (ACTOS) – the Training Chapter, Lanka Internet Service Providers Association (LISPA)/(TPA) – the Telecommunications Chapter and Information Systems Audit & Control Association (ISACA) – the Professional Chapter. FITIS has been in operation for the past 20 years as the unified umbrella organization of the ICT industry in Sri Lanka. FITIS has been actively engaged in setting the strategic direction and developing the ICT industry in Sri Lanka with many programs which have been successfully implemented. There are 200 organizations representing the respective Chapters which are members of FITIS.