---
Start-ups are established each year and are often paraded around with increasing fervour to describe scrappy young ventures, popular web-based apps and high-profile tech giants. Be that as it may, this is a certainty: many close shop and only a few make it big. But if you look on the bright side, there are those who do drive their ambition for success.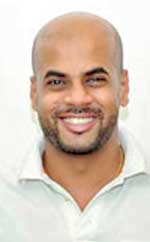 At the time of writing, Gudppl (Good People) is the only avant-garde social network based out of Sri Lanka. It is a dynamic mobile and web-based application which couples the skill-sets of volunteers with the interests of entities that need them.
Harinda Fonseka resonates the hallmarks of a contemporary humanitarian. As founder and Chief Executive Officer for Gudppl, he begins by articulating an inconvenience: "The idea that people can tailor their volunteering experience to their schedule, location and areas of passion was unheard of until now. And for organisations to use a single outlet through which to recruit volunteers to get involved in their work; non-existent."
The network wanted to allow local charities, religious institutions and schools to consolidate their 'needs' onto one platform so that the prospective volunteers would know what is required of them and how and when to deliver It. "Our primary goal at the time was to create a dynamic 'one-stop shop' for people who wanted to do good on behalf of society," Harinda said.
A lot of work and several iterations later, the network managed to develop a working prototype.
And while it seemed to work well for a while, it eventually brought a number of issues to the surface. "With a lack of financial resources and time, we reached an insurmountable plateau. A few days later, we participated in a start-up programme and came across Microsoft's BizSpark programme," Harinda said.

About BizSpark
Introduced in 2009, Microsoft's BizSpark programme encourages start-ups to build on their stack. The global programme provides start-ups, such as Gudppl with full-featured development tools and production licenses of server products for up to one year at no upfront costs.
Gudppl had to be first referred in via a network of venture capitalists, consultants and other professionals—all in a position to flag promising companies. To qualify, the start-up needed to have been in business for less than three years and have less than US $ 1 million (approximately Rs.153 million) in revenue.
Once enrolled, Gudppl incorporated Azure Platform as a Service (PaaS), a complete development and deployment environment in the cloud. "The resources we received were outstanding! There is no better way to describe it," says Harinda.
PaaS includes middleware, development tools, business intelligence services, database management systems and infrastructure—servers, storage and networking. And is designed to support the complete web application lifecycle: building, testing, deploying, managing and updating.
The service allowed Gudppl to develop from multiple platforms—including mobile—more easily. "BizSpark gave our developers the features and services they needed to deliver a novel cloud-based social network, and even a mobile app for Android and Apple-based devices. The programme also directed us to free resources and tutorials on how to use Microsoft technologies," says Harinda.

On Virtual Academy
Microsoft's Virtual Academy provides start-ups with free online training to help them utilize the tools offered to them during the programme. The academy allowed Gudppl developers to get seamless online learning experiences, learn the latest in technology on their own terms and access experts through a live Q&A session.
"Many of the tutorials and online courses, as you might expect, were geared towards Microsoft products: developing Windows apps, migrating from Windows Server, Office 365 training and so on. There are also some that are more universal, like learning JavaScript and C#," says Harinda.
"Spending a few hours on Virtual Academy allowed our developers to uncover pre-coded application components built into PaaS, such as workflow, directory services, security features, search and so on. As a result, it reduced the time it took to develop and refine our entire platform considerably," says Harinda.

Beyond goodness
The social-network—currently available in the Android Play Store, Apple App Store and over the web (i.e. www.gudppl.com)—now supports critical cross-coordination between organisations and volunteers passionate about uplifting communities and enacting change.
"Thanks to BizSpark, our network has the potential to elevate smaller quieter operations, to really showcase their work and welcome people to join in growing their impact," says Harinda.
BizSpark has allowed Gudppl to avoid the expense and complexity of buying and managing software licenses, underlying application infrastructure and development tools. Gudppl will manage the applications and services they develop and the cloud service provider will manage everything else.
"So far, we're having a great experience with the BizSpark programme," says Harinda. "We're in our first year and thanks to Azure and Virtual Academy, our to-market time has decreased enormously. Enrolment in the programme has definitely helped us build a reliable product that our users will depend on." Microsoft is helping even more start-ups succeed through its BizSpark programme. To join or see other start-up stories, visit its website at www.microsoft.com/bizspark/default.aspx.