---
Samsung Sri Lanka has announced the launch of an innovative new Facebook video app for Samsung Smart TVs.
The app, available on the Samsung Smart TVs of 2015, 2016 and 2017 QLED TV rangemodels, enhances the social media connectivity for Samsung Smart TV customers while optimizing their viewing and connectivity experience.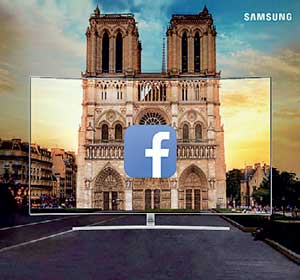 "Social media connects users across many platforms and Smart TV is no exception" says Youngmin Shin, Managing Director of Samsung Sri Lanka, " Samsung Smart TV customers now have the ability to connect to Facebook right from their Samsung Smart TVs without
any hassle."
As a global leader in technology, innovation remains a key area for Samsung. Being adynamic brand with an exceptional presence in the world of devices, the company drives innovative features across its portfolio of cutting edge products. " We see the value of Samsung Smart TVs growing as a platform for new partnerships and growth" says Sangsook Han, Vice President of the Visual Display Business at Samsung Electronics. "We will continue with innovating on various fronts such as technologies and partnerships, towards ensuring that our consumers can enjoy a wider variety of services."
The Facebook video app can be accessed by logging on to the Samsung Smart Hub ; following signing in, the Facebook app on Samsung Smart TV can be used as yet another value added service available through Samsung Smart TVs.
Pointing out that Samsung continues to elevate the service offerings through the Samsung Smart TVs by addressing situations that customers find difficult or complex, Youngmin Shin adds that the Samsung One Remote provides an exceptional feature as the central point of control for all devices. " Services such as online TV (Iflix) and video on demand can be accessed with a simple click on the Samsung Smart View mobile app."
Samsung continues to bring their consumers newer and better technological innovations that enhances the customer experience, he says in conclusion.
Samsung Smart TVs are available at all Singer, Softlogic and Singhagiri outlets.