---
Sri Lanka's largest information technology (IT) company – Ewis – launched the OCTA 9.7" (OCTA T970G), considered to be the perfect complement to any lifestyle, into the local market.

The tablet PC, which can function both as a computer and a touch screen tablet, has a dual operating system - switching between Windows 10 and Android KitKat (4.4.4) - giving users access to both Google Play and Windows stores.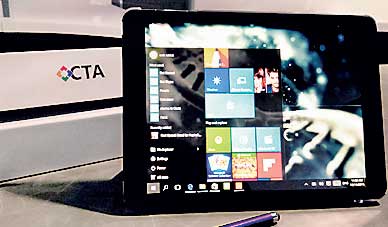 Speaking at the launch, E-W Information Systems Limited Chief Operating Officer Nirmal Pieris said, "We are excited to be bringing this device to the local market. It's a device that synchronises with both Windows 10 and Android KitKat and has the portability of a light-weight tablet, combined with the many of functions of a computer. The OCTA T970G exemplifies our company ethos of 'customer for life' by bringing together world-class technology at an affordable price to Lankan consumers with an added bonus of the best possible after service care."

The device is equipped with genuine Windows 10 and Microsoft Office Mobile and is compatible with a 3G SIM for Internet connectivity. This device also has an IPS display of 2048 x 1536 pixels. Produced at the Ewis manufacturing plant in Sooriyawewa, the OCTA T970G is the third tablet launched by Ewis. "We work with tech giants who offer us access to cutting-edge manufacturing technologies and software and ensure that our products match international manufacturing methodologies. This product was created with both Microsoft and Intel tech expertise, which guarantees a locally-produced device that is on par with any device available in the global market," said Pieris.

In 2014, Ewis revolutionised the tablet market in Sri Lanka when it introduced its very first hybrid tablet - the Ewis eTAB (a tablet and PC combo). They have since expanded to an entire tablet portfolio - the OCTA brand, which includes the T900G , the OCTA T900N - a hybrid tablet with a detachable keyboard, and the OCTA T700M, - an Android tablet PC with the perfect balance of power. "We have plans to release more tablets under the OCTA brand with the highest cutting-edge technology standards into the local market in the next few months,"
added Pieris.

The Ewis product portfolio ranges from laptops, desktops, notebooks, tablets and kiosks and is globally certified, meeting strict global regulations and standards. The company ethos emphasises on customization and quality in all its products to ensure it delivers the most suited product for any customer. Ewis also offers a strong islandwide service support system after purchase for its customers' benefit. Ewis devices are manufactured by Ewis Colombo Limited (ECL), a subsidiary of the Ewis group. ECL is the first and only original device manufacturer (ODM) in Sri Lanka and its manufacturing plant in Sooriyawewa is the only computer production facility in Sri Lanka that has been accredited as a Microsoft OEM partner and the only facility in the country with ISO 9001: 2008 certification from DNV for quality management and ISO 14001:2004 in environment management. The company produces nearly 250,000 desktop computers and over 200,000 laptop computers annually.