---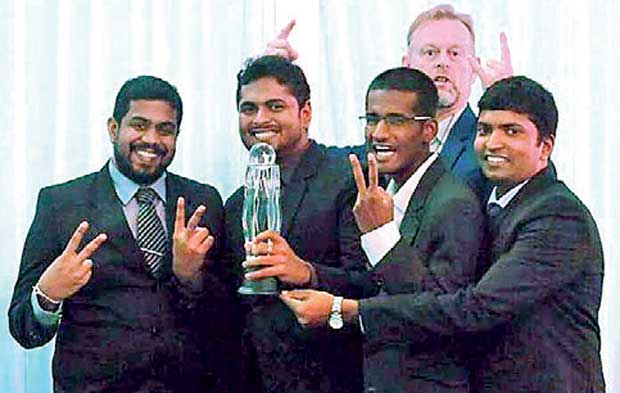 From left: Sameera Sampath (Tech Lead), Koshala Wickramasinghe ( Senior Software Engineer ), Thirueswaran Rajagopalan ( Senior Software Engineer), Stein.Inge Haal and (Chairman), Tharsan Sivakumar (Tech Lead)
Embla Software Innovation (Pvt) Ltd bagged Silver Award in Sustainability & Environment Technology category at the National Best Quality ICT Awards 2017 organized by The Chartered Institute for IT.
Embla Software has made a commitment to the community by extending their time and effort in supporting the IT industry from its roots (educational institutes) to create world class software engineers in Sri Lanka. Company has been providing workshops, guest lectures and hosting community events such as Angular JS meetups.

Embla has made a significant remark working with universities such as University of Sri Jayewardenepura, SLIIIT, APIIT and Moratuwa CSE, IT Faculty, University of Peradeniya and Kothalawala Defense Academy. The presenters at Embla are well trained to deliver not just a tutorial workshop but with interactive session and activity based learning, so that the audience will get a better grasp of software development concepts. We have received positive feedback from workshops done through the department heads of the respective unitvsities.

Employee development has always being the key focus at Embla. To be competitive in the industry our staff is trained to confront challenges with various programs focused on self-development. The effort in personal and professional development of a person is in the DNA of Embla. Whilst we believe, through community events such as industry workshops we help to develop the future kids in IT. "Employees are given support from HR in order to develop themselves personally and professionally. The investments we have vested on people have made us to the 4th consecutive year at the NBQSA Awards "says Sharon Kern - Manager Human Resources at Embla.

Winning NBQSA Award for the 04th consecutive year was yet another milestone for Embla. It's the consistency and the quality that has being our success. Since its inception, the company has being fully focused on delivering high quality products. NBQSA (National best quality ICT awards) competition gives recognition for outstanding achievement of individuals and organizations in Sri Lanka.

It also helps to showcase the capabilities of the winning software companies internationally. NBQSA improves standards of the software industry in Sri Lanka. Especially it helps to improve the quality of ICT products and services. As a company, we have to align ourselves to the global trend and expectations and as a nation as well.