---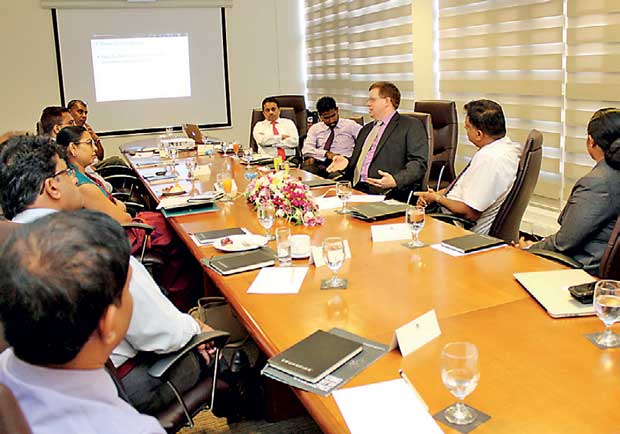 Eguardian Lanka shed light on emerging cyber security threats to the financial services industry at its 'Way Forward to Cyber Resilience' CIO Forum in Colombo recently.
Senior cyber security specialists from the company shed light on how banks and other financial service providers are targeted online by criminals and how more developed markets are working proactively to prevent such crimes.
Sharing emerging trends in uncovering such stealth attacks, they addressed concerns around threat hunting and continuous monitoring. The forum also touched on challenges companies might face in finding the right talent for these efforts.
World-renowned cyber security expert Jacob Williams (Jake) delivered the keynote address at the event which was attended by CIOs of some of the country's leading banking and financial services institutions. Jake is the founder and principal consultant at Rendition InfoSec and has over a decade experience in secure network design; penetration testing, incident response, forensics, and malware reverse engineering. Prior to founding Rendition InfoSec, he worked with various government agencies in various mission-critical information security roles. Jake is also a SANS Institute certified instructor and recognized author.
"It is great to see that Sri Lankan financial services institutions are keeping abreast with global tech trends in their sector. And it was illuminating to hear their views on the implementation of cyber security measures in Sri Lanka. It is open, informative discussions like this that will help us all better understand the challenges we face and jointly create a more secure digital world," said Jacob Williams, Founder and Principal Consultant, Rendition InfoSec.
Elaborating on online threats, Jake demonstrated how simple vulnerabilities in digital platforms of financial services companies couldleave them completely exposed. He highlighted several instances where criminals have exploited such vulnerabilities to stealthily gain access to their entire systems. This was followed by an exchange of ideas in which he gained a better understanding of the local financial services landscape and their use of technology. The forum then discussed the feasibility of continuous infrastructure monitoring, working on threat hunting and the challenges of skilled labor for such activities.
"Data is the fuel of the digital economy. So, it is understandable that financial institutions would have large repositories of valuable and sensitive data," said Shihan Annon, Regional Security Consultant at Eguardian Lanka. "Of course, whatever that can be collected can also be stolen, ransomed or corrupted. Cyber-attacks on our financial institutions can lead to widespread social and economic disruption. That is why it is important to have open discussions like this that help us exchange ideas and discuss how we can create a more secure digital universe."
Eguardian Global Services, a member of the Eguardian Group of companies, is a provider of cyber security services which specializes in digital forensics, threat hunting and threat intelligence services. Headquartered in Singapore, the company has operations in Hong Kong, Oman and Sri Lanka as well as a strategic office in Atlanta, USA.