---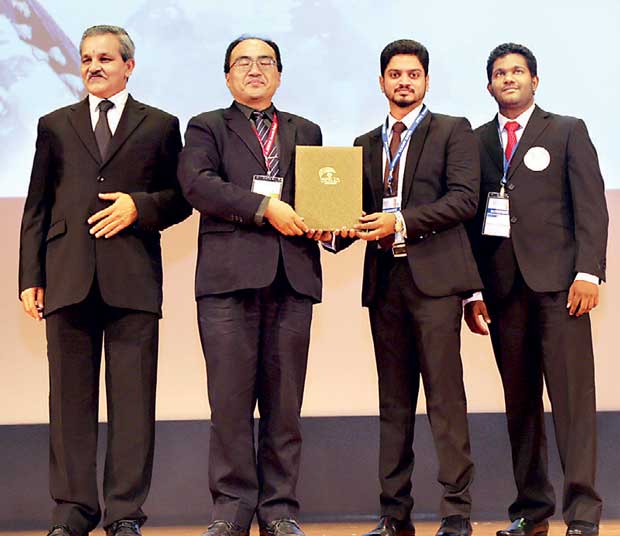 Duo Software Senior Manager – Product and Market Development Ajeewan Aru and Associate Software Architect Sukitha Jayasingha receiving the award
Duo Software bagged a Merit Award at the Asia Pacific ICT Alliance (APICTA) Awards, held on 5th December 2016 at the Grand Hotel in Taipei, just months after winning Gold and Merit Awards at the National Best Quality Software Awards (NBQSA).
FaceTone, Duo Software's flagship cloud communication and collaboration platform was awarded Merit under 'Communication' category amongst a total of more than 200 products and services, competing from 17 member nations. The award was presented to recognize excellence in product's uniqueness, functionalities and features, quality, stability & reliability as well as its market potential.
Asia Pacific ICT Alliance Awards is one of the premier international awards program, organized for the 16th consecutive year, by APICTA which provides a platform for ICT innovators and entrepreneurs in the region to catalyze and recognize indigenous ICT innovations to encourage economic & workforce development, trade relations and technology collaboration.
'FaceTone' provides users the capability of operating and running a contact center and customer service operationsefficiently while saving costs and maximizing revenue opportunities. It turns mountains of data of the call center operations and converts into actionable insights which will give real time pulse of the call center.
FaceTone is also integrated with various social media platforms such as Facebook, Twitter, Google + and Skype, supporting businesses to be informed on the customer behavioraldynamics on social media and develop online presence to increase customer loyalty and the efficiency of the methods of communication. With FaceTone, the user can create, manage and monitor call center operations anytime, anywhere from any mobile device, allowing businesses to serve the customers more effectively and efficiently. No matter the size of the business, FaceTone allows users to customize it as per their requirements - by engineering it to include variety of tools in one single platform.
Commenting on the achievement, Muhunthan Canagey, Founder and Chief Architect of Duo Software said: "At Duo Software, our continuous effort is to help the enterprisesto grow by providing them with a competitive advantage in terms of efficiency, cost reduction, revenue optimization, and continuous value addition to their product or service offerings and this award signifies that our effort has been recognized internationally".
Incorporated in 2004, Duo Software marks a global presence in catering to diverse industries including Business Intelligence, Billing, Work Flow Designing and Contact Center and Task Management Solutions, targeting different market domains.