---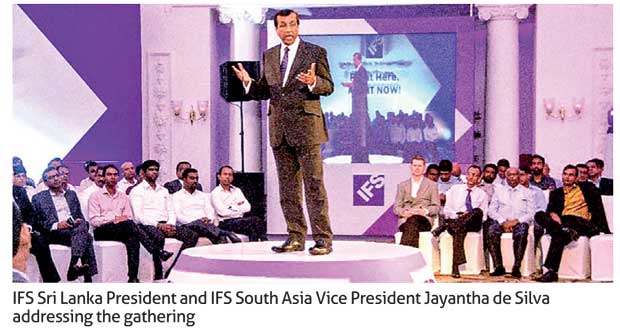 IFS Sri Lanka hosted over 225 key business executives and partners at a knowledge sharing session followed by cocktails at the Galle Face Hotel, Colombo recently.
The event was hosted under the theme 'Digital Shift is Taking Place Right Here Right Now' with the objective of bringing together customers, partners, and prospects with IFS' senior management to educate them about the opportunity presented by the digital shift that is currently taking place on a regional and global scale.
IFS CEO Alastair Sorbie took the opportunity of educating customers about IFS global operations update while IFS Sri Lanka President and IFS South Asia Vice President Jayantha de Silva provided the attendees with a review of the 20 year journey of IFS in Sri Lanka. Sorbie and de Silva both highlighted the growth of the company, which stated with just 20 employees 20 years ago, to now over 1,000. During this time, IFS is proud to have implemented IFS applications at over 120 leading companies in the region, many of whom were present at the gathering.

The keynote address was made by IFS Global Industry Solutions Vice President Antony Bourne, who presented about the Digital Shift that is currently taking place in the world as well as in the South Asia region. He spoke about the top five factors for Digital Transformation, and specifically highlighted case studies of how companies had transformed their business using Artificial Intelligence, Internet of Things, 3D printing, Robotics, Augmented Reality and Drone technology.
de Silva commented: "In my opinion, companies today are more risk adverse and unwilling to change. This hinders the ability of organisations transforming their businesses in line with this digital shift that's taking place. Companies should embrace change and view it as an opportunity for competitive advantage if they want to stay relevant in this digital age."

The event created a platform for IFS to further strengthen the relationships with existing and potential clients as well as partners. Attendees provided feedback that they were pleased to have had the opportunity to meet and network with senior management from IFS as well as peers in the industry.