---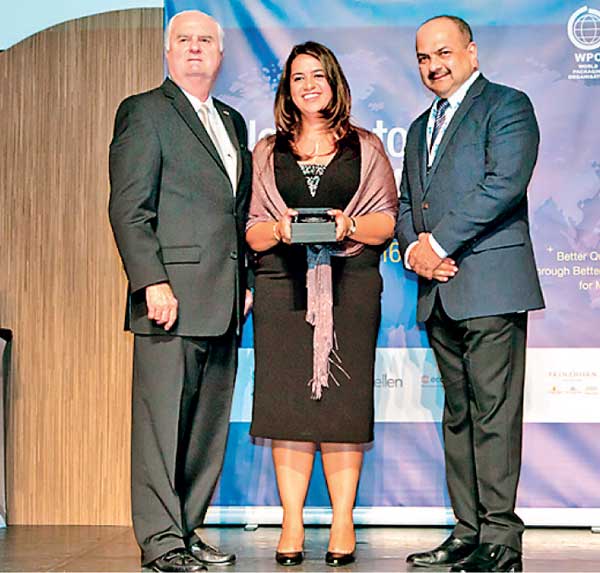 From left: Thomas Schneider, President of the World Packaging Organization, Taniya Francis Director / CEO Crimson Creative Solutions, Tony De Livera Chairman, Crimson Creative Solutions
Crimson Creative Solutions (Pvt) Ltd was recently awarded a World Star Award in the Point Of Sale category for its work on the Anchor Newdale Supermarket Display Concept.

Speaking on the win, Taniya Francis - Director/CEO explained, "We are delighted to be able to represent Sri Lanka on the international stage and to compete with internationally recognised advertisers and brands. Our belief is that it is our commitment to design, creativity and quality that has brought us this success and we would like to thank our clients and our stakeholders for their faith in us and assure them that we will continue to go above and beyond to offer them excellent services in the future as well."

Walking away with a win for the solution developed for the launch of Anchor Newdale flavoured UHT milk, the Crimson Point of Sale solution achieved the client goals of creating awareness and attracting attention – successfully launching the product.

Having won a Gold in this category at the Sri Lankan stage of the competition and an Asia Star Award - the entries were then forwarded to the global World Star Awards competition, overseen by the World Packaging Organisation; a non-profit, non-governmental, international federation of national packaging institutes and associations.

The 2016 awards ceremony for the World Star Awards took place in Budapest and saw Crimson Creative Solutions compete with work done for internationally reputed brands such as the London Eye, Kellogg's, Galaxy Chocolates and Pepsi.

Since its incorporation in 2003, Crimson Creative Solutions has developed a wide range of branding solutions that have exceeded expectations and delivered outstanding results. Operating as a fully equipped production facility, the experienced Crimson Creative Solutions team handles a vast array of indoor and outdoor branding work and are constantly striving to add value to each client's branding needs.