---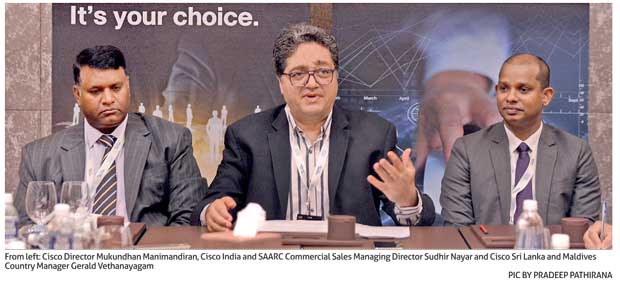 By Harshana Sellahewa
Cisco recently unveiled its new strategic initiative 'Cisco Start', committing itself to help drive Sri Lanka's digital transformation by focusing on Small and Medium Enterprises (SMEs) and skills development and to showcase how digitisation can fuel economic growth, world-class innovation, sustainable competitiveness and prosperity.

The concept of solutions being driven to address specific customer challenges has been with Cisco since its inception in 1984. Cisco is the worldwide leader in IT that helps companies seize the opportunities of tomorrow by proving that amazing things can happen when connecting the previously unconnected. Today, the American multinational technology conglomerate is headed by CEO Chuck Robbins.

A digitised country aims to drive GDP growth, create jobs and foster innovation, enhance research and education, stimulate entrepreneurship, accelerate business innovation, develop economic cluster initiatives, and support infrastructure. SMEs account for almost 52 percent of Sri Lanka's GDP and employ a workforce over a million people, making it one of the most critical high-growth segments in the country. With Sri Lanka looking to drive growth through digitisation, SMEs have become an essential component to the country's digital transformation journey.

Speaking on the launch of the initiative, Cisco India and SAARC Commercial Sales Managing Director Sudhir Nayar stated: "Sri Lanka is an important market for Cisco. The launch of 'Cisco Start' demonstrates our commitment to accelerate digitisation of SMEs in Sri Lanka. SMEs play a vital role in driving Sri Lanka's growth in this digital world. With 'Cisco Start', SMEs now have access to digital technologies that can help them digitise and secure their businesses in the digital era."
"Digitisation has emerged as the most transformative means to ensure growth and balance the socio-economic divide. In Sri Lanka, we are partnering with leading service providers, banks, healthcare providers, as well as the government in their digitisation efforts. We are honoured to work with the people of Sri Lanka to accelerate their digital economy, and help further the government's vision to create sustainable competitiveness and prosperity," Nayar further added.
As part of Cisco's commitment to accelerate digitisation in Sri Lanka and support skills development, Cisco Networking Academy is engaged with several universities, the government, and local defence establishments.

The Cisco Networking Academy programme in Sri Lanka with 10 partners across the country has trained over 13,000 students since inception.

The cloud-delivered skills-development programme offers a high quality curriculum that helps students learn how to design, build, secure and maintain digital infrastructure and prepare for jobs in the digital economy.

To help Sri Lankan students acquire the skills necessary for 21st century jobs, Cisco also invests in providing workforce development programmes such as 'Women Rock IT', 'Find Yourself in the Future' and tech skills development competitions.

Cisco is also streamlining the processes and incentives for its vast partner and distributor network in Sri Lanka.

Cisco Director Mukundhan Manimandiran commented: "Cisco is a 100 percent partner-led company, and we have over 100 partners in Sri Lanka. They significantly expand Cisco's customer reach around the world with innovative solutions and services based on Cisco technology. Apart from making it easier to do business with Cisco, we have significantly increased our channel efforts to augment partner capabilities and profitability."