---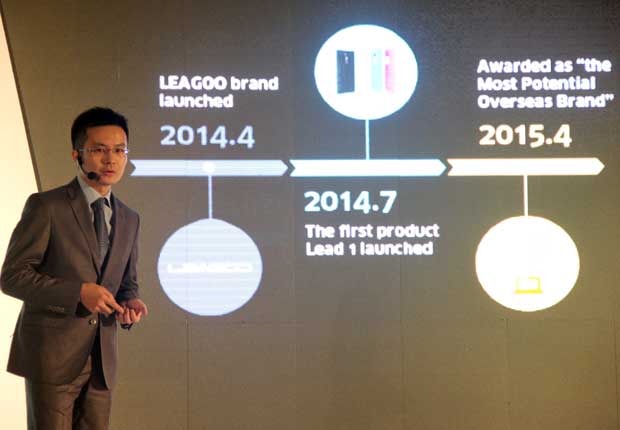 Leagoo Mobile CEO Johnson Zhuang speaks about the newest products introduced to the Sri Lankan market
Pic by Pradeep Dilrukshana
By Supun Dias
Leagoo Mobile, owned by Shenzhen-based OTEDA Technology Co. Ltd and OTEDA Holding Group, officially entered into the Sri Lankan market by partnering with Natural Wonders (Pvt.) Ltd.
OTEDA established the Leagoo brand in April 2014 and it has gained a sizeable customer base very quickly due to its focus on the entry-level and mid-range markets. The company focuses on value for money and its phones come with good build quality coupled with unique designs.
Leagoo phones are now available in more than 50 countries. Recently at Mobile New Force Summit 2016 it was adjudged as the China Best Mobile and Overseas Best Selling Brand of the Year.
Leagoo introduced some of its highest-selling mobile phones at the launch, which was held recently at the Oak Room, Cinnamon Grand Hotel. These phones will give a new experience to the Sri Lankan consumers.
Speaking at the event, Leagoo CEO Johnson Zhuang said, "We are excited to be in Sri Lanka, which has a tremendous potential and we look forward to achieving great strides in Sri Lanka. Our three main objectives are to create an international brand, create an ecology based on mobile Internet ecosphere and create an open incubation platform. LEAGOO has designed, produced and distributed over eight million smartphones to users over 96 countries in the past three years."
The Leagoo Shark 1 is probably the most unique phone in the lineup. The most amazing feature that the Leagoo Shark 1 can boast is its 6,300mAh battery in a relatively thin 8.5mm body. The phone is stated to last 49 hours of music playback, 72 hours of calls, 25 hours of video playback and 770 hours while in standby. It is priced at Rs.29,990.
T1 and T1 Plus are specially designed for the selfie-crazy youth, priced at Rs.19,990 and Rs.23,990, respectively. The Z3C and Z5LTE are priced at Rs.9,900 and Rs.12,900, respectively.
M5 and M5Plus are among the world's first shock proof –nano all-metal frame smartphones and priced at Rs.15,990 and Rs.23,990, respectively.