---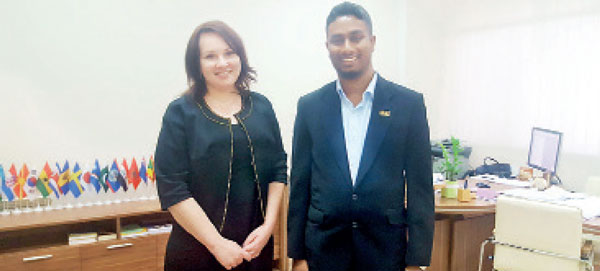 For the first time in Sri Lanka, the Central Institute of Science and Technology (CIST) has signed up with government universities in Ukraine to promote higher education programmes in Sri Lanka.
During an official visit to Ukraine, CIST Executive Director Rangamini Werawatta has signed agreements with Zaporozhye State Medical University and Vinnytsa National Medical University for Sri Lankan students to enrol for medical degree programmes in Ukraine. Both these medical universities have very high standards when it comes to teaching medical degree programmes with state-of-the-art facilities. The courses will be offered at a very nominal fee for Sri Lankan students to pursue their dream of becoming a medical doctor. Both these universities are recognized by the Sri Lanka Medical Council (SLMC) and World Health Organisation (WHO).

Also there were two separate memoranda of understanding (MoUs) signed with Sumy State University and Karazin Karkhiv National University to offer bachelors and masters degree programmes in management and IT in Sri Lanka. Both these universities are recognized by the University Grants Commission (UGC) of Sri Lanka and both these universities are ranked in the top 1000 universities in the world. According to QS Rankings, Sumy State University is currently ranked at 701 and Karazin Karkhiv National University is ranked 382 in the Global University Rankings.
At present there are 369 higher education institutions in Ukraine and in 2005 Ukraine joined the Bologna Declaration and provides European educational standards together with 18 other countries participants. Ukraine is introducing the European Credit and Transfer System and Ukrainian diplomas of higher education are recognized worldwide. Due to high-quality education system and European standards maintained by the Ukrainian universities, there are over 64,000 foreign students from 148 countries studying in Ukraine.
The organisation of higher education in Ukraine is built up in accordance with the structure of education of the world's higher developed countries, as is defined by UNESCO and the UN. Ukraine produces the fourth largest number of post-secondary graduates in Europe, while being ranked seventh in population. Ukraine has the fourth largest IT industry in the world and six of the Ukrainian universities are among the top 1000 universities in the world.

CIST will bring in the expertise and knowledge from Ukraine in order to create a knowledge economy in Sri Lanka. During his visit, Werawatta also met with Ukraine Education Ministry International Education Director Dr. Olena Shapalova to discuss further on corporation and promoting Ukrainian education in Sri Lanka.

From 2017 onwards, Sri Lankan students will be able to access vast resources, knowledge and education programmes offered by the top universities in Ukraine who are ranked among the best in the world.