---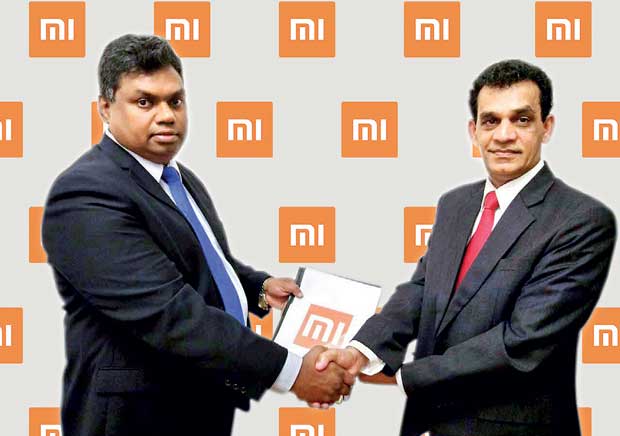 Boswin Lanka (Pvt.) Ltd CEO Prasad Vidanalage (left) exchanges official agreements with Cellcity Lanka (Pvt.) Ltd Director Upul Fernando
Leading Sri Lankan mobile phone distributor Cellcity Lanka (Pvt.) Ltd has been at the forefront of the local tech market and keeping to this, has announced the introduction of yet another world-class mobile brand – Xiaomi – to Sri Lanka.
The company will commence this initiative by introducing two of its most popular models to Sri Lankan consumers in January 2017 – Xiaomi Mi 5 and Xiaomi Redmi 3.
The brand, which is generally sold online around the world, will be available through Cellcity Lanka's retailer network for the first time ever in Sri Lanka.
Xiaomi is currently the world's fourth largest mobile phone manufacturer and is currently ranked as China's number one mobile; all this in a mere five years since the launch of its first phone in 2011.
Hailed by tech lovers as their go-to mobile phone brand, Xiaomi phones have speedily gained popularity thanks to their innovative features and cutting-edge design, coupled with affordable prices that make them accessible to a wide range of consumers.
Xiaomi is also renowned for its wide range of products including Mi power banks, Mi smart TVs, smart devices such as Mi band, Mi VR, Mi head phones, etc.
Cellcity Lanka is currently also the exclusive agent for Meizu and Zigo mobile brands and has partnered with Boswin Lanka to now bring the Xiaomi experience to the Sri Lankan market – Xiaomi mobiles will be available for purchase islandwide this month through Cellcity Lanka's wide dealer network.
"Xiaomi is a young smartphone brand that has literally revolutionised the global smartphone market with its unique approach to business. Xiaomi smartphones are known for their uncompromising quality that's on par with the highest standards and their unconventional business approach enables them to offer their products at affordable prices to consumers.
We are pleased to have partnered with Boswin Lanka and Xiaomi to now bring the unmatchable Xiaomi experience to the Sri Lankan consumers," said Cellcity Lanka Director Upul Fernando, when commenting on Xiaomi's entry into the Sri Lankan market.
He further noted that given the current levels of saturation in Sri Lanka's mobile phone market with the existing brands, Cellcity believes that the local consumers now need the opportunity to explore more alternatives before purchasing a smartphone of their choice.
"It is with this understanding that we are launching Xiaomi phones in Sri Lanka as it is a popular brand amongst tech-savvy smartphone users across the globe. A technologically advanced phone like Xiaomi, which is also affordable, can definitely broaden the horizons of the Sri Lankan smartphone lover's experience," added Boswin (Pvt.) Ltd CEO Prasad Vidanalage, while explaining the objective behind introducing the new brand into the local market.
The Mi 5 was the first Xiaomi phone to be unveiled under the massive spotlight of the world's biggest mobile expo - the MWC in Barcelona. With its impressive outlook and functionality, the Xiaomi Mi 5 is an appealing and highly sought-after model by user around the world. The Mi 5 comes with notably thin bezels, a sharp profile, a curved back and a lightweight body - all adding to one of the most impressive exteriors a modern smartphones can hope for.
Xiaomi Redmi 3 is not your usual budget smartphone. The word budget is hardly a good match for an aluminum unibody, a 5" IPS display, a powerful octa-core processor, a 13MP camera and a beefy 4,100 mAh battery. The Xiaomi Redmi 3 may be cheap in price but it does not skimp on features.
Furthermore, Sri Lankan consumers will be able to enjoy the Xiaomi experience with the guarantee provided by Cellcity Lanka, coupled with their unmatched after-sales service, which is available to consumers across the country through Cellcity's islandwide presence.
Incorporated in 1999, Cellcity Lanka has been a dominant player in the Sri Lankan mobile market as a top mobile solutions provider. With over 17 years of experience, Cellcity Lanka is engaged in the marketing and distribution of Zigo, Meizu and Xiaomi mobile phones, communication devices, LED lighting solutions, Dialog Axiata Network Products and Services, Dialog Axiata Franchises Network Services and the sale of related ICT devices.
Cellcity Lanka has been recognised as one of the best mobile service providers in Sri Lanka adhering to international standards of quality and has been accredited with the ISO 9001:2008 certification since 2005.