---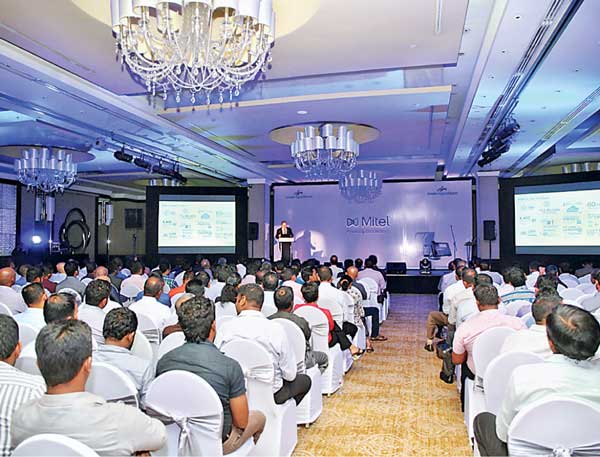 Mitel, a Canadian telecommunications company providing unified communications solutions for business, recently showcased their innovations in enterprise communication, at an event organized by Metropolitan Communications (Pvt.) Ltd.

During the presentation it was highlighted that by 2017, it is expected that 75 percent of enterprises will be from smartphones and by 2018, 70 percent of mobile professionals will do business on
mobile devices.
The presenters showed how a smartphone's seamless applications could make doing businesses easier by breaking
the barriers.
"What I have seen last five years is more clients switching to the IP word from TDM systems and there is a big demand for could-based services and mobile services," Mitel Head of Product Management for Middle and Africa Marcus Junthe said.
When it comes to solutions, he said that Mitel is the only company that is included in all five quadrants of Gartner Report in enterprise telephony with leadership position in united communications and

corporate telephony.
"Market in Sri Lanka is growing quiet fast, Sri Lanka is an A-market," he stressed.
Mitel Marketing Manager for Europe, Middle East and Africa Ian Bevington said that the latest technology development in mobility is bringing in a new dimension to the roving worker in an organization.

"What this means is that you no longer have to provide a fixed extension to an employee any more as the mobile phone will function as the fixed phone with complete desktop functionality," he said.
Speaking of how Metropolitan communications commenced their advert into enterprise communications, Metropolitan Communications Managing Director Roshan Tissera said that this journey began far back in 1980 with Ericsson. In February 2008, he said Ericsson decided to divert their enterprise portfolio linking with Canadian-based company Astra technology.
He said since then Aastra Technologies continued development in existing Ericsson platforms while introducing their own innovations to the market. In January 2014 Aastra Technologies merged with Mitel, resulting in bringing over 60 million customers.

Mitel's latest hospitality suite enables the telephone system to seamlessly integrate to the property management system of the hotel thus providing features and functionality that will enrich guest experience.

Mitel's portfolio includes mobile, cloud and enterprises solutions. It was noted that they have made a revenue of US $ 1.2 billion, with 2 million subscribers and 4,400 employees. (ZZ)