---

Cambio Software Engineering launched their 'Cambio Learning Centre' with a view to providing final year IT graduates with practical knowledge and skills required to be industry-ready when they enter employment.

The learning centre is set up with a vision to empower the future generation of IT students with practical knowledge and skills required to be successful in the industry in addition to their theoretical training at the universities. At Cambio Software Engineering the programme is aimed to 'transform individuals from students to professionals' with a motto of 'Collaborate, Innovate, Accelerate'. They look towards providing students with a stepping stone to launch their careers. At Cambio Learning Center Sri Lanka, students will be able to expand on their current knowledge base through hands on work during the sessions and also get insights into new emerging trends in the industry. The combination of academic knowledge, hands-on experience and an understanding of the direction of the industry will enable participants to start their careers with a firm foundation.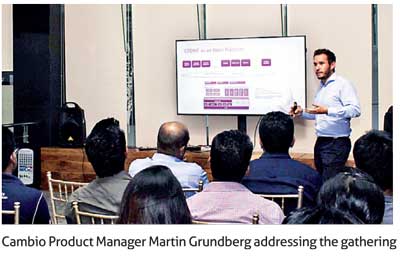 Cambio Healthcare Systems Sri Lanka Software Engineering General Manager Dharshana Jayawardena says "We are proud to initiate this learning centre as it will help the IT graduates to enter the employment stream with a firm foundation. With their knowledge gained at the university, the courses offered by the CLC will give them a greater understanding of work place requirements and demands as we will take a very practical approach in training. We hope this will have a positive impact for the Sri Lankan IT industry by preparing graduates from our universities into industry-ready professionals."

Final year IT students from local universities would be nominated and enrolled in different courses and each week they will get to work with experts in respective areas, learn new techniques and apply them during the workshops with the help of mentors as well as practice further as homework assignments.