---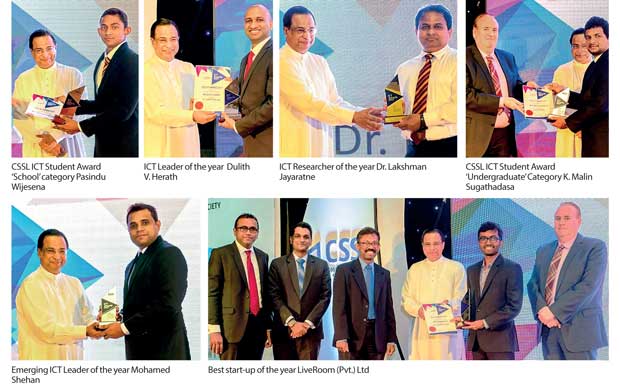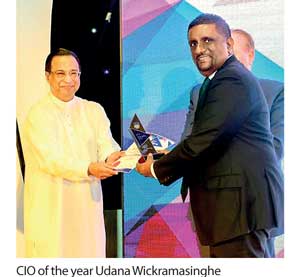 CSSL ICT Awards 2017 is the annual Information Communication Technology (ICT) industry awards ceremony organized for the fifth consecutive time by the Computer Society of Sri Lanka (CSSL) to encourage, recognize and celebrate the excellence in ICT practice by rewarding the best and the finest of ICT professionals.

The project was led by CSSL Student Counselor/Council Member Professor Samantha Thelijjagoda.
The winner of CSSL ICT Student award 'School' category is Pasindu Chathuranga Wijesena from Ananda College Colombo. He entered Ananda Collage after the grade five scholarship examination, after having primary education at Kahawatta Primary School, Kahawatta.

The CSSL ICT Student award 'Undergraduate' category was won by Keet Malin Sugathadasa of University of Moratuwa. He is a product of the Department of Computer Science and Engineering, University of Moratuwa. As an emerging young student in the field of research, he has an interest in areas related to Machine Learning, Natural Language Processing and Cyber Security.

CSSL ICT Researcher of the year is Dr. Lakshman Jayarathna. He is a Senior Lecturer attached to the University of Colombo School of Computing (UCSC). He obtained his B.Sc (Hons) in Computer Science from the University of Colombo and his PhD in Computer Science from the University of Western Sydney, Australia.

CSSL Emerging ICT leader of the year was awarded to Mohamed Shehan. He is a young entrepreneur, creative thinker interested in finding innovative solutions for the benefit of differently able people such as hearing impaired, visual impaired since the world today has not created much products or innovations that could solve their basic day to day problems.

The Best start-up of the year is LiveRoom. This is a startup based in Colombo which specializes Augmented Reality and Virtual Reality platform developments. The company's main product is a cloud based sales and marketing platform powered by the latest augmented reality technology to support online sales. This company started through a final year project when the founders, Sameera Nilupul and Chameera Wijebandara were at the university.

CSSL CIO of the year is Udana Wickramasinghe. He is a seasoned Digital cum Business Executive who has provided effective stewardship for local and global organizations. He started his career in banking and moved into IT which helped him to gain significant experience in both digital and business arenas. He has over 22 years of experience, with 11+ at the C-level, in Sri Lanka, UK and Australia with an operational footprint covering territories including other European countries and emerging markets.

CSSL ICT Leader of the year is Dulith Herath. He is the award-winning Founder and Chairman of Kapruka and serial entrepreneur. In just over 11 years of operation, Kapruka has evolved by leaps and bounds, scaling from a humble website running on a laptop to a billion-rupee icon of success and disruptive innovation.