---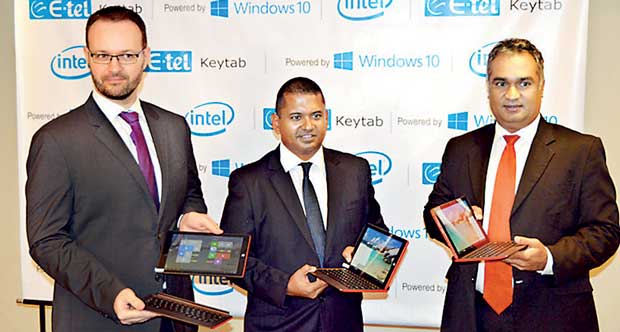 Brantel Lanka (Pvt) Ltd, the premier mobile company which introduced
E-tel mobiles to Sri Lanka has now introduced a computer that can feature as a tablet and laptop computer to the Sri Lankan market.

E-tel Keytab consists of all features which are available in a tablet computer and laptop computer. The E-tel Keytab as per the requirement of the consumer also could be used as a tablet computer of laptop computer.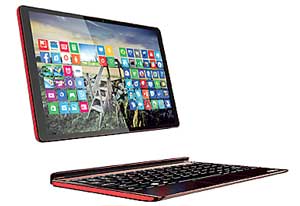 The unique feature of the E-tel Keytab is that in comparison to prices of other Keytabs available in the market, the E-tel Keytab can be purchased for a very reasonable low price. The E-tel Keytab is priced at Rs 34,000 and is also sold with a one year guarantee, Brantel (Pvt) Ltd announced.

Customers who order the product online over the website www.brantelonline.com will also be entitled to a 5 percent discount by Brantel (Pvt) Ltd. More information about the offer can be obtained by telephoning the hotline number 0112024666.

The E-tel Keytab operates with Genuine Windows 10 Operation System and is powered with an Intel 1.33 GHz Quad Core processor. Among the other unique features are a 2GB RAM, two USB Ports and Mini HDMI Port, five mega pixel rear camera and two mega pixel front camera. The E-tel Keytab has also video recording facility. The external memory capacity of the device can be extended to 32 GB.

The E-tel Keytab tablet computer with a compact design comprises a 10.1 inch display and weighs as less as 586g and is small in stature (260*160*9mm) making it easy to be moved around. Powered with a 6000 mHh battery the E-tel Keytab can be used for a longer duration without hassle. The E-tel Keytab also is provided with a special bag free of charge that enables it to be easily carried around by Brantel (Pvt) Ltd.

The E-tel Keytab was recently launched at Cinnamon Grand Hotel.