---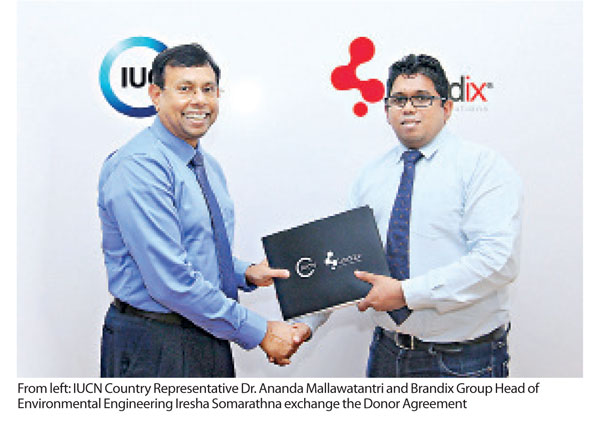 A project by the International Union for Conservation of Nature (IUCN) to monitor the water quality in the Kelani River basin as a prelude to a larger initiative for the basin's management and conservation, has received funding support from Brandix, Sri Lanka's top-ranked exporter.

Brandix will finance the project and collaborate with the IUCN to set up a mechanism for online monitoring of discharge into the river at the investment promotion zones in Seethawaka and Biyagama, as part of its commitment to the Kelani River Multi-Stakeholder Partnership (KRMP) under which government, non-government and private sector entities will work together with communities in the Kelani River basin.
The first year of the project will encompass an assessment of the water quality in 71 minor watersheds in the Kelani River basin and identification of sources of pollution.

A Donor Agreement ratified by Brandix and the IUCN in Colombo describes the project as "an enabling activity to set the foundation for the management and conservation of the Kelani River Basin that is threatened with agricultural, industrial, domestic and urban pollution".

The specific objectives of the project are to strengthen water quality monitoring in the Kelani River basin, develop knowledge products to facilitate environment management and conservation, identify key stakeholder groups at minor-watershed level to initiate implementing best practices and promote the participation of more stakeholder entities in the KRMP initiative.

As part of its undertaking, the IUCN will in addition to providing the defined project deliverables and outputs, provide the community with training material on best practices for source water protection and minor-watershed planning for water safety as well as a report on the initial implementation of the minor-watershed conservation and management in a selected number of pilot minor-watersheds.
"As a business group that has made water the central theme of its commitment to the community, we have a deep appreciation of the importance of watershed management and conservation," said Brandix Group Head of Environmental Engineering MrIresha Somarathna.
"Supporting the IUCN with a project as important as this fits perfectly with our CSR agenda and will also be a great learning experience for us."

"This initiative will accelerate the timely implementation of the Kelani River Multi-Stakeholder Partnership approach, as a breakthrough initiative for water quality protection while ensuring the sustainability of industry-related livelihoods. It will also provide an up scalable model for the National Pavithra Ganga or Clean River Programme," said IUCN Country Representative Dr. Ananda Mallawatantri.

The KRMP initiative hopes to engage with several local universities to develop and run the water quality testing and analysis facilities proposed under the project.