---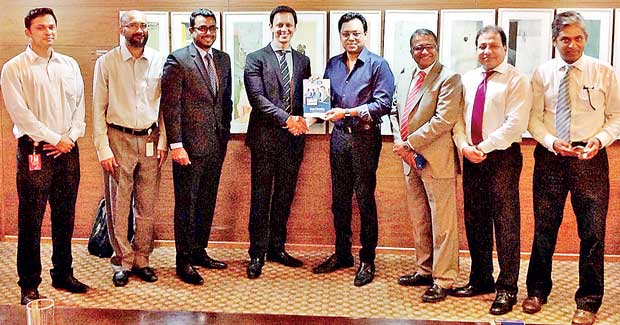 Representatives of BoardPACPvt Ltd, The City Bank Limited, RobiAxiata Limited and Business Automation Technology at the signing of the agreement in Bangladesh
The award-winning Sri Lanka-developed corporate governance solution BoardPAC has been selected by The City Bank, a leading commercial bank in Bangladesh,as its paperless board meeting & corporate governance solution.
The City Bank will be the first bank in Bangladesh to adopt a paperless board communications platform powered by RobiAxiata, a leading mobile phone company in that country.
"We are excited to work with The City Bank, one of Bangladesh's oldest commercial banks and to deploy BoardPAC's secure digital solution," said Lakmini Wijesundera, CEO
of BoardPAC.
"Our partnership with The City Bank reaffirms our commitment to providing a simple, secure and sustainable technology solution to leading banks and financial institutions around the world."
Under this collaboration, BoardPAC will build a customised and highly secure portal to increase the ease of management communications and strategic discussions.
The City Bank's board members and senior management will soon to able to access, review and approve vital board documents on their iPads, enabling more effective and efficient board communications. The adoption of the solution is also in line with the Bank's goal of pioneering smart and technologically advanced solutions in various areas of
its business.
"This is just one of the many attractive mobility solutions that businesses can access with RobiAxiata. Solutions like BoardPAC will enable new ways of working and will help business stay relevant and respond fast in an increasingly technologically-driven landscape," said Supun Weerasinghe, Managing Director& CEO of RobiAxiata. He added that this new technology is part of on-going efforts to enhance RobiAxiata's value proposition to customers and to support the drive towards greener, more sustainable business solutions.
A National Best Quality Software Gold award and Green IT award winner, BoardPAC provides users the ability to view and approve papers from the ease of a Board Member's iPad. It has a host of features such as collaboration, meeting management and RSVP, the ability to search and refer to past board papers, as well as to annotate and approve documents and update agendas. The solution meets with the highest security standards including the ISO 27001 certification.
The solution already has the largest market share for board meeting automation in Sri Lanka, Malaysia and in the Asia Pacific region, and is emerging as a leader across the globe. BoardPAC is a trusted board automation solution used by the top 10 companies in Sri Lanka including Carson Cumberbatch PLC, John Keells Holdings, Commercial Bank, Nations Trust Bank, SriLankan Airlines, Sri Lanka Telecom, Hemas and MAS Holdings as well as the Colombo Stock Exchange (CSE).