---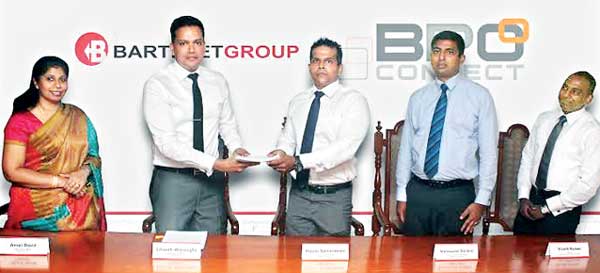 From left: Amali David - Chief Financial Officer, Bartleet Group, Eshanth Wijesinghe, Group Managing Director - Bartleet Group, Arjuna Samarakoon, Managing Director & CEO - BPO Connect Group, Sirinivasan Sankar - Head of Global Transformation, BPO Coonect Group and Vinoth Kumar - Director, BPO Connect, IT Connect Sri Lanka
The Bartleet Group is entering into a strategic partnership with the BPO Connect Group to usher in better technology and a brighter future.

The objectives of this strategic partnership are to renew focus, provide cutting-edge solutions and provide customer focused solutions to the ICT industry in Sri Lanka. BPO Connect group through its subsidiary IT Connect Pvt Ltd will be investing in and managing the operations of Bartleet Technologies (Pvt) Ltd, BC Computers (Pvt) Ltd and Bartleet Electronics (Pvt) Ltd.
The Bartleet ICT cluster has been at the forefront of technological change in Sri Lanka for over three decades and has many firsts to its credit. These include importing the first computer system into the country.

Through these years, the Bartleet ICT cluster has weathered tough economic times, adapted to the banking and financial services sector's growing needs as well as endeavouring to build a solid foundation based on reliability and efficiency. The Bartleet IT cluster is known for offering a range of ICT services tailored to client needs and is backed by the strength of the Bartleet Group, one of Sri Lanka's most respected conglomerates.

IT Connect is a BOI-approved IT Services provider backed by the BPO Connect Group. BPO Connect Group specializes in providing IT enabled solutions to small and medium enterprises with front offices in Australia, UK, US and delivery centres in the Philippines, Sri Lanka and India. BPO Connect brings to the partnership its shared services expertise, enabling platforms and Cloud accelerators that have been tried and tested across various industries including the banking and finance sector. The objective of this strategic partnership is to bring in a new dynamism to the ICT sector and provide a customer focused delivery system ensuring that the client comes first.
The Bartleet name is synonymous with long term relationships and the critical focus of this partnership is to leverage the current relationship with a greater focus on outstanding client service and delivery.