---
The birth of a newer generation of Sri Lankan companies designing and delivering cutting-edge technology solutions for organisations to improve the way they operate has been revolutionizing the IT landscape in the country recently.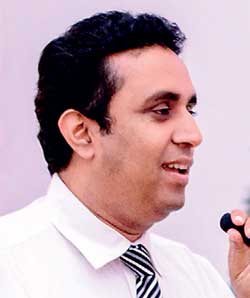 Another new start-up to watch: While start-ups come and go, some make an immediate splash and captivate and succeed in keeping our attention as they grow. Emerging as one of the newest and savviest players to enter the local marketplace, APPS Technologies has made waves in the industry with its IT and domain expertise and innovative e-commerce, mobile and security solutions.
Leveraging innovation today for tomorrow's company: Specializing in IT infrastructure development, BPO services, e-commerce-based services, software development, mobile solutions and social media marketing. Apps Technologies CEO Shanaka Rajapakse leads a dynamic team of skilled specialists that deliver successful implementations built on Agile methodology. Its solutions have been instrumental in providing a full-cycle of custom software development and R&D services, offering a unified brand experience on all levels, across every channel, helping clients improve their businesses and productivity.
Director Marketing Ishan Kannangara said, "Our main expertise is on software services and we work on enhancing the existing technologies, products and services, by saving users time, money and effort and helping them make the proper choices to gain better productivity.
Our aim is to help organisations utilize technology to anticipate the future by preparing today in terms of strategy, innovation and change. This we believe is what gives companies a genuine competitive advantage and we want to play a key role in this sphere."
Prioritizing on competence and speed: Giving an insight into their portfolio of services, he explained, "We use our expertise knowledge on Android/IOS and other development platforms to cater to all the software needs of our clients, from design to implementation to going live.
He added, "We also offer infrastructure solutions and have partnered with the largest security solutions company in Sri Lanka Crytogen to deliver security solutions that integrate people, processes and technology covering the entire lifecycle of policy, planning, implementation and optimization. Our full suite of information security services and solutions help define cyber security strategy, identify and remediate threats and risks and achieve operational readiness to protect from malicious attacks, holistically addressing information security needs ranging from the programme level all the way down to the project level." Commenting on the response received from the market at present, he stated that many companies in the automobile, trading business and FMCG markets have been very receptive to their solutions. Citing some of their most recent success stories, he said, "A leading Japanese automobile company has asked us to design a solution to automate its service booking. A leader in the paint industry has also chosen Apps Technologies to work on its e-commerce mobile app."
Outlining their future goals and plans, he stated, "Our aim is to be the number one choice for business start-ups and leading companies for their IT/software services. The existence of innovative companies and their ability to develop new business solutions for more efficient operations of organisations are key factors in improving productivity and stimulating economic growth in a country.
In an age where companies need to foster a culture of staying young, staying hungry and staying innovative, APPS Technologies is set make a mark in the local market space with its innovative software solutions that have been designed to cater to the future needs of organisations.