---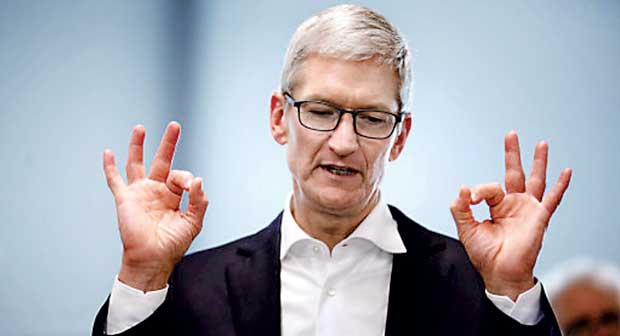 Variety.com: Tim Cook took home a much sweeter pay check this year -- thanks to Apple exceeding its financial targets for 2017.

The tech giant's CEO had a compensation package totalling US $ 12.8 million for 2017, an increase of 47 percent over last year, according to Apple's annual proxy filing Wednesday with the SEC. The biggest component was a cash bonus of US $ 9.3 million (up 74 percent from his 2016 bonus) under Apple's incentive plan tied to revenue and profit performance.

"In 2017, Apple was above its target performance goals for both net sales and operating income, resulting in a payout of each named executive officer's annual cash incentive at 155.5 percent of target," the tech giant said in the filing.

For the company's 2017 fiscal year ended September 30, Apple reported sales of US $ 229.2 billion (up 6.3 percent from the year prior) and net income of US $ 48.4 billion (up 5.8 percent).

Cook's annual base salary for 2017 was unchanged at US $ 3 million and the annual salary for each of Apple's other executive officers also remained the same, at US $ 1 million. Because 2017 was a 53-week fiscal year, the year's salary amounts reflected an extra week of pay; for Cook, that meant an additional US $ 57,692.

Apple's other top execs made out even better than their boss, each of whom was awarded US $ 20 million in stock. Cook's compensation was nearly half that of the US $ 24.1 million packages for CFO Luca Maestri, SVP of hardware engineering Dan Riccio and general counsel Bruce Sewell. Apple SVP of retail Angela Ahrendts and SVP of hardware technologies Johny Srouji took home about US $ 24.2 million for 2017.

The company noted that Cook has not received an equity award since 2011. Cook, 57, was named CEO in August 2011 after previously serving as COO.

Cook's 2017 pay package included US $ 440,000 in "other compensation." That included security expenses in the amount of US $ 224,216, a vacation cash-out in the amount of US $ 103,846 and personal air travel expenses of US $ 93,109 representing "the incremental cost to Apple for Cook's personal use of private aircraft based on hourly flight charges and other variable costs incurred by Apple for such use." Apple requires its CEO to use corporate jets for security reasons.

In the filing, the board also submitted the slate of eight nominees for re-election: Cook, Disney CEO Bob Iger, Al Gore, James Bell, Andrea Jung, Art Levinson, Ron Sugar, and Sue Wagner. Per Apple's bylaws, each director elected at the annual meeting will serve a one-year term. The shareholder meeting will be held February 13, 2018, at the Steve Jobs Theatre on Apple's new campus in Cupertino, Cali.