---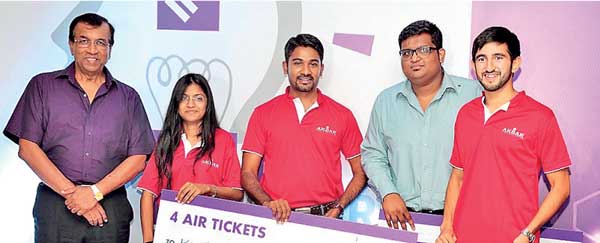 From left: IFS President/CEO Jayantha De Silva and IFS Mind Masters 2016 winners – Akbar Brothers quiz team members – Zainab Abbas, Fasly Munawwar, Anson Krishan Fernando and Shiraz Akbarally after receiving the air tickets and cash prizes
The quiz team from Akbar Brothers (Pvt.) Limited emerged as the winner of a tightly contested IFS Mind Masters Quiz competition, held recently at Park Premier, Excel world in Sri Lanka.
The winning team walked away with four air tickets to Kuala Lumpur, Malaysia.

The quiz programme saw teams competing from IFS client companies in Sri Lanka including Blue Mountain (Pvt.) Ltd, Singer Sri Lanka, Emjay International, Siver Mills (Pvt.) Ltd, Overseas Realty (Pvt.) Ltd, Samson Rubber Products (Pvt.) Ltd and Samson Rubber Industries (Pvt.) Ltd.
The annual quiz competition was organised by IFS as an evening of friendly competition and fellowship with the aim of bringing together the large community of customers using IFS Applications in Sri Lanka.

The competition featured five quiz rounds covering sports, entertainment, current affairs, business and technology, which was conducted via an online quiz portal. The event was hosted by IFS staff on behalf of its customers.

The team from Akbar Brothers (Pvt.) Ltd comprised of Shiraz Akbarally, Fasly Munawwar, Zainab Abbas and Anson Krishan Fernando.

The team representing Emjay International (Pvt.) Ltd emerged as the runner-up of the competition and the team comprised of Azain Ghany, Valentine Gnanakan, Dinum Weerabahu and Sivajini Sivanathan.