---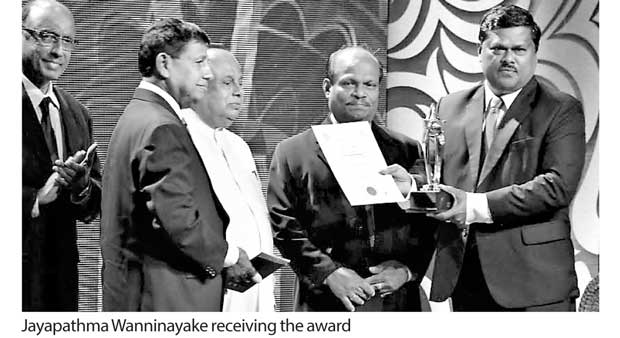 Kurunegala Co-operative Hospital (Kurunegala Co-operative Aarogya Association (Pvt.) Ltd) was extolled of its potential by the award for the best service provider in the field of services and tourism at Wayamba Vijayabhimani Excellence Awards.

This function organised by the Wayamba Provincial Industrial Services Federation was honoured with the prestigious presence of the President Maithripala Sirisena as it was held at the Provincial Council auditorium in Kurunegala on November 24th.

Sri Lanka Co-operative movement was not a solely profit-oriented business like the private sector. They adhere to the noble cause of delivering quality service at a fair cost. The hospitals set up by the Co-operative Societies provide superior healthcare services at flexible charges.

Co-operative Hospital, Kurunegala was established on the land and property generously donated by the late Minister U.B. Wanninayake and his family members 65 years back in time. Since then, Co-operative Hospital, Kurunegala has seen thousands of patients taken care of under its roof. This hospital is currently registered with Co-operative Commissioner under the Co-operative bill and operated under the management of a board of directors chaired by the President Jayapathma Wanninayake. Sunil Fernando is the General Manager of the hospital. The Ordinary Patients Department (OPD) of Co-operative Hospital, Kurunegala is open round the clock on all 365 days of the year.

Co-operative Hospital, Kurunegala makes specialist services, treatment and facilities unbeaten by the private hospitals available for the hospitalised patients at fair charges. Experience these healthcare services in 14 sections including laboratory services, operation theatre, maternity unit, CT scan unit and Echo unit. The nursing school affiliated to Co-operative Hospital, Kurunegala trains nurses on a three years course. Besides, they involve themselves in a variety of social welfare activities throughout the year.