---
The Siddhalepa Ayurveda Hospital at Templer's Road, Mt. Lavinia, completed twenty eight years of service during which it popularized the ancient Sri Lankan Ayurveda both within the country and internationally and provided relief to thousands of patients.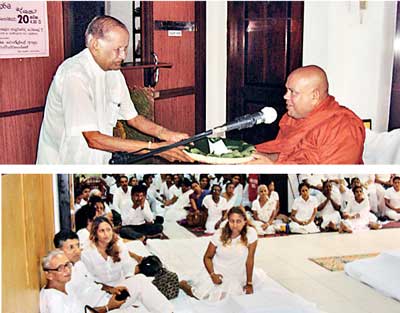 ​
The 28th anniversary of Siddhalepa Hospital was marked by a special 'Bana ceremony' preached by Ven. Borelle Athula Thero on October 20th at the Templer's Road premises. Among the large number present at the occasion was Siddhalepa Group Chairman Deshabandu Dr. Victor Hettigoda, Board of Directors and staff members.
Deshabandu Dr. Victor Hettigoda's idea of introducing modern technology into the Ayurvedic sector became viable with the opening of Siddhalepa Ayurveda Hospital in Mt. Lavinia. Today, it provides treatment of distinct Ayurveda proportions to thousands of patients in a luxury environment. All Ayurveda medicines used at the Siddhalepa Ayurveda Hospital are scientifically prepared with ISO 9001, ISO 14001, ISO 18001, ISO 22000 & GMP standards. Only classically authenticate herbs and dry ingredients are used in these preparations. The medicines are prepared by experienced staff under the supervision of a panel of qualified doctors.