---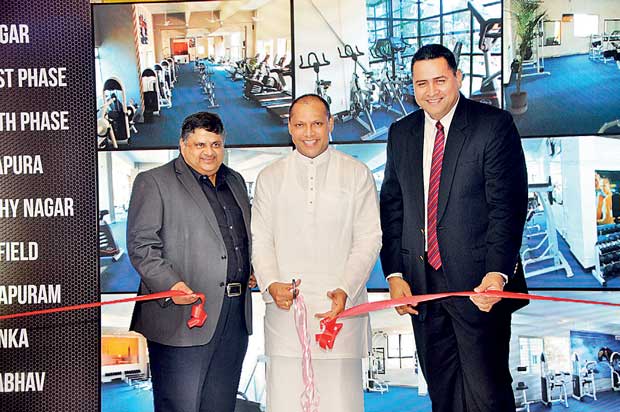 Seen here Minister of Sports Dayasiri Jayasekara, Founder of Power World Gyms Talavou Alailima and Director of Talwalkars Better Value Fitness Harsha Bhatkal ceremonially opening the 20 gyms in Bangalore at an event held at Taj Samudra in Colombo
Pic by Waruna Wanniarachchi
By Supun Dias
Power World Gyms in Sri Lanka together with India's Talwalkars launched 20 gyms in Bangalore, India simultaneously in single day.
Both partners of Power World Gyms and Talwalkars Better Value Fitness Ltd boast a wealth of industry experience as market leaders in their respective countries.
Sri Lanka's pioneer gym chain Power World Gyms, with over two decades of experience, has developed a model that provides quality fitness centres at an affordable price for people in the middle and upper income segments. The entry into the Indian fitness industry, with the launch in Bangalore, raises Power World Gym's profile in the Indian sub-continent.
Director of Talwalkars Better Value Fitness Harsha Bhatkal said that Power World has something that Talwalkars with its 90 years of experience (in the fitness industry) does not.
"It has a different DNA, and I think there is a segment in India which can benefit, and since our objective at Talwalkars has always been to make fitness available to the widest number of people, Power World can pay a very important role in India. It's amazing that a Sri Lankan company can come into India, come into a single city, leased out so many properties at rentals that we can't believe, important equipment which is the best in the world, put together a team which is the most challenging job for any service industry, trained them -- all in the space of 120 days," he added.
Minister of Sports Dayasiri Jayasekara said that this is a unique achievement and brings lot of pride to the country. He added that it is very exciting to see the Power World brand reaching out of Sri Lanka in its way of becoming a global brand.
"Some have told me why all these Indian gym chains are coming to Sri Lanka. Complaining that they are cheap but I have specifically told them that the doors are open to anyone to give a quality service at a reasonable price," he noted.
Founder of Power World Gyms Talavou Alailima said that since its inception in 1994 the commitment together with innovative ideas has enabled us to create a network of 17 thriving gyms serving over 16,000 members in Sri Lanka.
"We are delighted that our partnership with Talwalkars has resulted in expanding the Power World Gym's model into India. We believe that this has tremendous potential in targeting the underserved majority with affordable gym facilities. Bangalore is well known for its large bank of young professionals looking for a healthy lifestyle," he said.
In October 2015, Talwalkars Better Value Fitness Limited, commonly known as Talwalkars and is India's largest chain of fitness centres made a strategic investment in Power World Gyms, its maiden investment outside of India.
India has an extremely low penetration of gyms compared to most of the other countries. This has been largely attributed to affordability and proximity factors. The Power World-Talwalkars partnership hopes to address both these issues and cater to the rapidly growing demand for fitness facilities in India.